Resources to Enrich Your Lenten Journey
Lent 2021 is the forty day season of the church year leading up to Easter. Beginning with Ash Wednesday (February 17), followers of Jesus use this time of preparation to pray, repent, worship, serve, and reflect on all that Christ has done on our behalf. Lent concludes with Palm Sunday and our Holy Week Observances (March 28 to April 4). Easter joy and victory is ours because of Jesus' life and suffering, death and resurrection on our behalf. We pray that the resources found on this page will enrich your Lenten journey.
---
---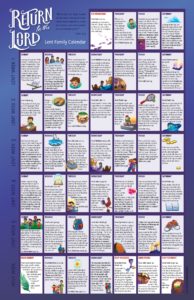 Request a FREE Lenten Family Calendar
Let us mail you a FREE Lent 2021 Family Calendar! Perfect for homes with children — count down to Easter with a daily Scripture, devotional thought or family activity.
Please fill out the form below or stop by the church office or welcome center. (By the way, we promise not to collect, share or misuse your personal information.)
---
Lent 2021 Worship Series
"Return to the LORD your God, for He is gracious and merciful, slow to anger, and abounding in steadfast love."

(Joel 2:13)
God is calling you to return.
Return to the Lord… God's invitation and promise finds its fullness in Jesus Christ, who personified and accomplishes all that God declares. Follow different events during the Passion, specifically focusing on the people that followed Christ, to see how God calls His people to return to Him this Lenten season.
Ash Wednesday, February 17 | A Call to Return | Matthew 6:1–6, 16–21
Midweek 1, February 24 | Return to Prayer | Matthew 36:36–46
Midweek 2, March 3 | Return from Betrayal | John 18:1–11
Midweek 3, March 10 | Return from False Witness | Matthew 26:57–68
Midweek 4, March 17 | Return from Denial | Luke 22:54–62
Midweek 5, March 24 | Return to the Kingdom of God | John 18:28
Holy Thursday, April 1 | Return to the Table | Mark 14:12–26
Good Friday, April 2 | Return to the Truth | John 19:1–16
Easter Sunday, April 4 | Return and See | Matthew 28:1–10
Follow the Passion narrative and its practical applications for those who walked alongside Jesus as He carried out God's grace and mercy for all. Listeners will reflect on their own sinful nature, understand how they have turned away, and delight in God's call to return to Him wholeheartedly.
Learn More