Christ is Risen! He is Risen Indeed! Alleluia!
He is risen! He is risen indeed! Thank you for joining us at Immanuel Lutheran Church in Joplin, Missouri as we celebrate the Resurrection of our Lord Jesus Christ on Easter Sunday! Welcome to Easter at Immanuel.
Join us In-Person or ONLINE at 6:30, 8:00, or 10:30am!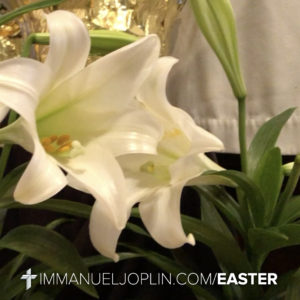 Our Easter Services feature views of our church sanctuary decorated for Easter, beautiful music, an uplifting message of hope, plus a few surprises too.
We invite you to join us for worship throughout Holy Week. In addition to our Easter Services on April 17, we have worship services on Palm Sunday (4/10), Maundy Thursday (4/14), Good Friday (4/15), and Holy Saturday (4/16). We hope you'll join us every Sunday as we gather for worship, both in-person and online!
The Easter Breakfast and Egg Hunt are back this year! Join us between services in the gym. (limited menu before 8:30 — Egg Hunt at 9:45)
Join Us for Holy Week and Easter Services
Lent 2022 Worship Series
Witnesses to Christ: People from His Passion
This year's Lent 2022 series paints a stunning portrait of Jesus through the eyes of those whose interactions with Jesus lead us to meditate on His Passion as recorded by St. John in his Gospel. Our overall theme is "Witnesses to Christ: People From His Passion."
John tells us why he wrote his Gospel:
Jesus did many other signs in the presence of the disciples, which are not written in this book; but these are written so that you may believe that Jesus is the Christ, the Son of God, and that by believing you may have life in His name."

John 20:30–31
Life! When we believe that Jesus is the Christ, God gives us life—abundant life, forgiven life, and eternal life.
Historically, the Fourth Gospel is likened to an eagle—an image that suggests John soars to heights of glory and grandeur. That's because the evangelist paints a stunning portrait of Jesus, who is the bread of life, the resurrection and the life, and the way, the truth, and the life. Life in Jesus. That's God's gift to you!
During Lent 2022, our life in Christ will be strengthened as we hear the witness of those in John's Gospel who journeyed to the cross. Along the way, we'll meet villains, such as Barabbas and Pontius Pilate, as well as sinners, such as Peter (who denied Jesus three times), Mary Magdalene (who was possessed by seven demons), and Judas Iscariot (who betrayed Jesus for thirty pieces of silver).
Please join us for worship at each Lenten Service as we hear the witness of these people in John's Gospel:
Ash Wednesday, March 2: John the Baptist, John 1:29–34
Midweek of Lent 1, March 9: Mary, the Sister of Lazarus and Martha, John 12:1–11
Midweek of Lent 2, March 16: Malchus, John 18:1–11
Midweek of Lent 3, March 23: Peter, John 18:12–27
Midweek of Lent 4, March 30: Barabbas, John 18:33–40
Midweek of Lent 5, April 6: Pontius Pilate, John 19:1–16
Palm Sunday, April 10: The Disciples, John 12:12–19
Maundy (Holy) Thursday, April 14: Judas Iscariot, John 13:21–30
Good Friday, April 15: John, the Gospel Writer, John 19:25–37
The Vigil of Easter, April 16: Nicodemus, John 19:38–42
The Resurrection of Our Lord, April 17: Mary Magdalene, John 20:1–18
---
ARCHIVE: Easter 2020 "Selfies"
Thanks for making our Easter Selfies and Alleluia Butterflies such a success! Watch the Easter 2020 Intro video here.
Enjoy this Easter 2020 Selfie photo gallery with all of our Easter Selfies inside!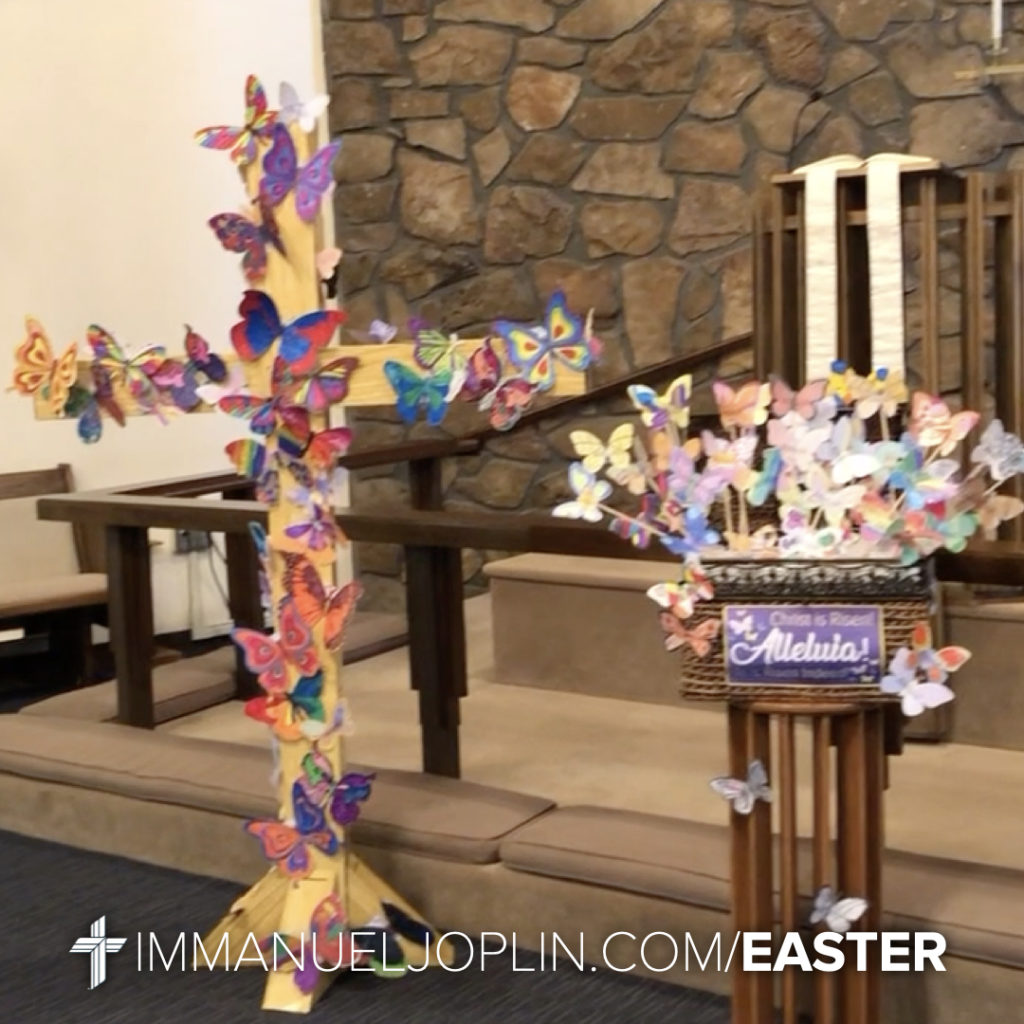 ARCHIVE: The Easter Selfie Project 2020
Help us to share Easter joy! Download and print our Easter Selfie Sheet. Here are some instructions:
Download your Easter Selfie Sheet HERE, pick one up from the "sunny day cart" on the sidewalk just outside Immanuel's church office, M-F from 9 to 3pm, or make your own.
Decorate the butterflies on the Easter Selfie Sheet.
Take a "selfie" of your family holding the sheet.
Send your selfie picture by message to Jason Glaskey (using the number printed on the sheet).
Display your Easter Selfie Sheet in the front window of your home for your neighbors to see!
The Easter Selfies will be used in a special way during our Easter Sunday broadcast. Thank you for participating!
Do you have questions? Give us a call at the Church Office anytime during the week at 417-624-0333. We hope to see you at Immanuel very soon.
---
Learn More