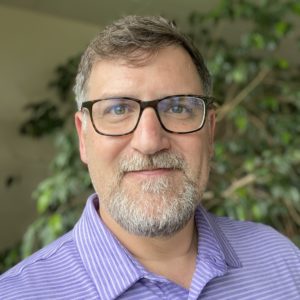 Jason Glaskey has been serving Immanuel as Minister to Youth & Families since 2008. Born and raised in the Southeast Missouri town of Ironton, he started his college career at Missouri Southern State College in Joplin, Missouri. Jason quickly found himself attending church at Immanuel-Joplin, then helping with Youth Ministry, Sunday School, and singing in the choir. Discovering God's Calling to become a Director of Christian Education and Lutheran Teacher, Jason transferred to Concordia University in Seward, Nebraska, earning a B.S. in Elementary Education & Director of Christian Education in 1998, with continued studies at Concordia-Nebraska in Family Ministry over the years.
Jason and his Lutheran School Teacher wife Lyla have been married since 1994, serving the Lord together in two Missouri congregations and schools before coming back "home" to Joplin in 2008. The Glaskeys have two young adult children, Samuel and Hannah, who attended Immanuel's own Martin Luther School from preschool through 8th grade.
Jason enjoys working with Immanuel's K-9 Comfort Dog Ministry and serving the Missouri District-LCMS in various ways, including being the chairperson for the state-wide Junior High Retreats for more than two decades. Jason loves music and is crazy about the Kansas City Chiefs football team and Saint Louis Cardinals baseball.