Bringing Mercy and Compassion
Immanuel's Comfort Dog Team visits people in hospitals, nursing homes, schools, and at community events, sharing mercy and compassion with those hurting or in need. Our Team Daniel also responds after disasters all around the country and have become trusted friends to many. More than one hundred LCC K-9 Comfort Dogs are serving Lutheran congregations and schools all around the United States, thanks to the amazing work of Lutheran Church Charities (LCC).
A Comfort Dog is a friend who brings a calming influence and allows people to open up their hearts and receive help for what is affecting them.
Meet Joplin's Comfort Dog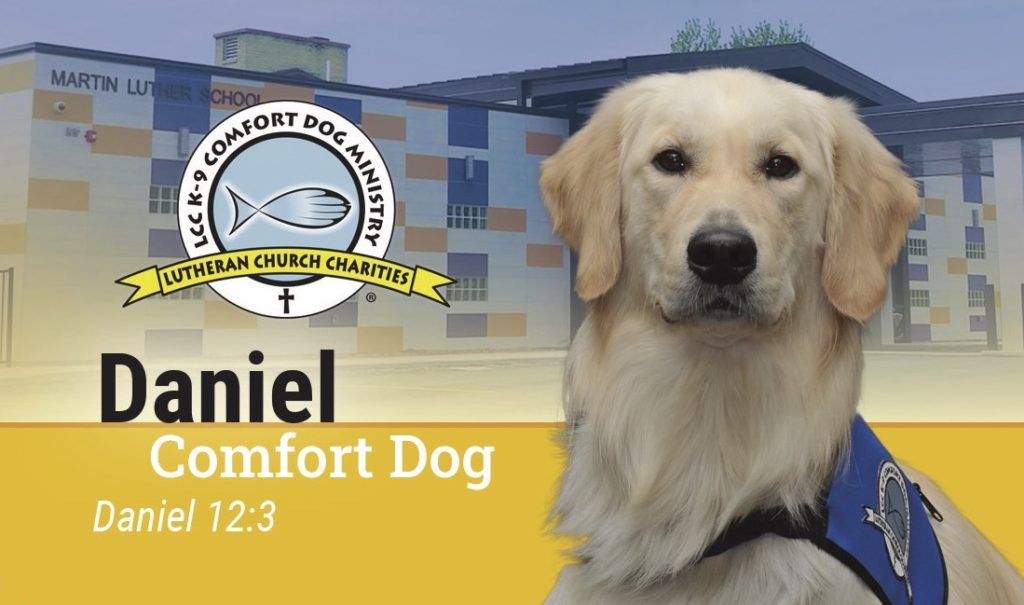 Daniel Comfort Dog
Birthday: January 15, 2021
Bible verse: "Those who are wise will shine as bright as the sky, and those who lead many to righteousness will shine like the stars forever." Daniel 12:3
Special traits: skilled and playful, he lives to please and do his work (as well as chew on a bone at the end of the day.)
Ministry strength: Daniel is very reliable with his commands and loves to meet new people.
Favorite snack: an occasional dab of peanut butter inside a Kong toy
Favorite way to relax: massage, grooming and cuddle time
Connect with Daniel:
About Our Work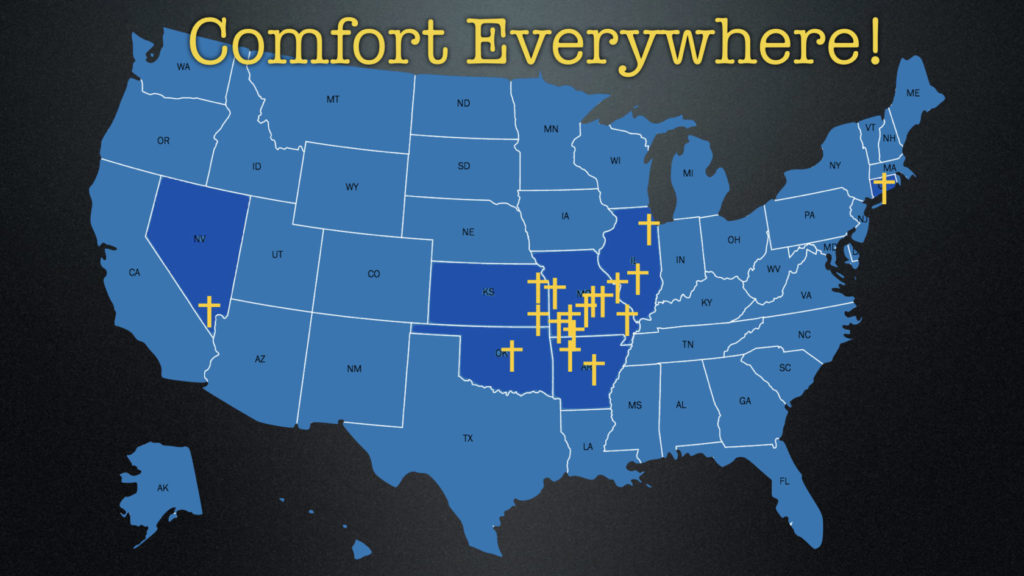 Joplin's Comfort Dog team is made up of nearly a dozen caregivers and handlers — all volunteers — who take our Comfort Dog to visits throughout the week. You'll see us at the mall, hospitals, nursing care facilities, schools, and at community meetings and events. You also may hear about our deployment work, helping people in need after natural disasters, shootings, and anywhere else that people are hurting. We've included a map showing several of our deployments over the years.
Notable Deployments
Sandy Hook, Connecticut, following the school shooting | January 2013
Moore, Oklahoma, following a devastating tornado | May 2013
Mayflower, Arkansas, following another deadly tornado | May 2014
Nashville, Illinois, following a tragic plane crash | January 2015
Stillwater, Oklahoma, following a deadly homecoming parade crash | October 2015
Las Vegas, Nevada, following the Mandalay Bay Casino shooting | October 2017
When invited, Team Joplin will do what we can to be there for hurting people, and we never ever charge anyone for what we do. Our Comfort Dog Ministry depends on donations and the church budget to keep us ready to serve whenever and wherever God calls us.
Why Do We Do This?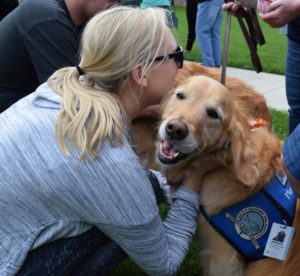 Our world is full of broken people—folks who are hurting and in need. Petting a Comfort Dog and making a human connection is often helpful.
But we are ready, when appropriate, to provide much more. By faith, our Comfort Dog team is moved to share the mercy, compassion, presence, and proclamation of Jesus Christ. In Jesus there is Mercy for the broken and Compassion for the hurting. God Himself is Present in His life-giving Word. This Proclamation of hope is the true, capital "C" Comfort that we all need. Our world is desperate for it. (Learn more about Jesus here.)
During many of our visits, our trained volunteers have the privilege of praying with the people we meet, sharing Scripture and pointing them to the love and mercy of Jesus. We thank God that we are often called to serve in this way with Comfort Dogs.
Support Our Comfort Dog Work
We welcome your prayers and words of encouragement. Our Comfort Dog Ministry is supported completely by donations, and there is never a fee for the work that we do. If you would like to support us financially, tax-deductible contributions are being accepted to the Joplin Comfort Dog Travel Fund. Donate now with Givelify or check out our secure, Online Giving Page hosted by EServicePayments/VANCO, or send a check by mail to:
Immanuel Comfort Dogs | 2616 Connecticut Ave | Joplin, MO 64804
Contact the Dog Team or Request a Visit
We would love to hear from you! The Joplin Comfort Dog Team is available to visit your church or group. Please fill out the form below.
[contact-form][contact-field label="Name" type="name" required="1″][contact-field label="Email" type="email"][contact-field label="Phone" type="text"][contact-field label="Message" type="textarea"][/contact-form]
We Thank God for the Ministry of Joplin's First Comfort Dogs, Jackson and Louie!
"In Memory of Louie Comfort Dog" — March 2021
"Remembering Jackson Comfort Dog" — March 2019
Local Comfort Dog Partners
The Joplin Comfort Dog Team couldn't do what they do without the help of these Joplin businesses, who provide excellent care and believe in the work being done. Thank you to Dr. Michelle Cahill at Academy Animal Hospital and to Sandy Jimerson at Joh Joh's Classy Canine!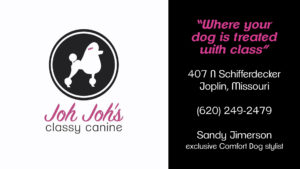 Joplin Comfort Dogs In The News
Learn More
Comfort Dog handler schedule
Password Protected Google Calendar for the Joplin Comfort Dog Team