Sharing And Growing Together
Young Adults Group
NOTE: Young Adults Group has been taking a break during the COVID-19 pandemic. We hope to resume activities soon!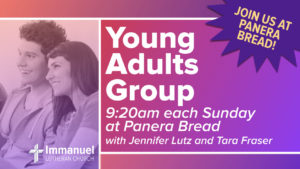 Be a part of Immanuel's Young Adult Small Group! Led by two of our young teachers from Martin Luther School, any young adult from their late teens through 20s and early 30s is welcome to join in.
Young Adults Weekly Bible Study
We gather for fellowship and Bible study each week at Panera Bread on 32nd Street in Joplin, then head to Immanuel Lutheran Church a few blocks away to worship together. The makeup of our group is often changing, depending on various college and work schedules. Folks are invited to come and go from week-to-week, and are always welcomed back. The one constant of our group is God's Word and the grace and mercy of Jesus that never lets us down. (The coffee and pastries always hit the spot, too.)
Beyond weekly Bible study and worship, the group plans and participates in a variety of social and service activities together. Want more information? Give us a call at the church office at 417-624-0333, or send a message to jlutz@martinlutherjoplin.com.
Learn More