Helping Joplin through COVID-19 Coronavirus
Let the peace of Christ rule in your hearts… Let the word of Christ dwell in you richly.

Colossians 3:15-16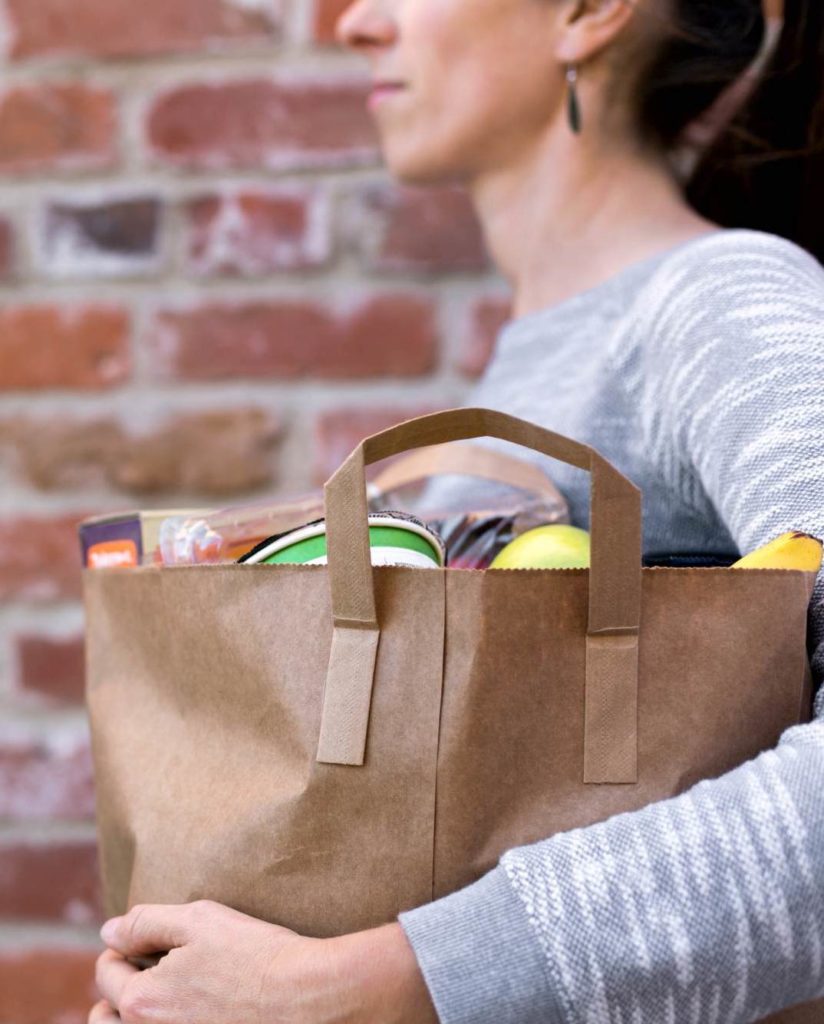 Need help? Want to help? Volunteers from Immanuel are available to do shopping and errands for those who need to stay home. Contact Us.
---
---
UPDATE: Saturday, March 28, 2020 — A message from our congregation president, Mr. Darrell Ideker…
I spent a good deal of time this past Friday talking with health care professionals, Pastor Mech, Chief Elder Jeff Schilling and other church leadership here at Immanuel about the impact the coronavirus pandemic is having, or will have, on our community. 
It is with a sad heart that I am here to inform the congregation that we will continue our suspension of public worship services through the month of April as our community continues to fight the coronavirus battle.  Although our state and local leaders have not yet forced a shelter-at-home policy, it is likely soon to happen.  Even so, the social distancing and "no more than ten people in a group" gathering guidelines that remain in effect preclude our worshiping together at this time.  Our Martin Luther School will also be closed through April 24, as are all area schools.
As unpleasant as the decision to suspend our worshiping together is, especially as we approach Easter, the highest festival season of the year, please know that it is made in the best interest of our membership and our church staff. We want to keep everyone as safe and healthy as possible.
In the meantime, please make sure to log on at immanueljoplin.com or on Facebook LIVE at facebook.com/immanueljoplin to worship with us remotely on Sundays and for Lenten services.
And please continue to mail in your weekly offerings.  It is critical at this time when we are not able to meet together that we keep financially sound.
-Darrell Ideker, congregation president, Immanuel Lutheran Church in Joplin
---
UPDATE: 8:00 am, Sunday, March 22, 2020 — Our first Online-only worship service is a success! Pastor Mech, our organist Betty Lingenfelter, and DCE Jason Glaskey recorded the service then posted it on Facebook on Sunday morning, so that God's people from Immanuel could gather together to worship Jesus. After its "premiere" on Facebook, the service and sermon have also been posted to immanueljoplin.com, on YouTube, as well as an audio-only Podast. If you need help figuring out how to access the worship service online, call Jason Glaskey at the church office M-F from 9 to 3pm.
---
UPDATE: 9:00 pm, Tuesday, March 17, 2020 — At the Church Council Meeting this evening it was decided that Immanuel-Joplin's campus will be closed for all meetings, activities and worship services until at least Palm Sunday, April 5. Services will be streamed on Facebook LIVE. Also, sermons, updates and other resources for your family will be posted regularly on immanueljoplin.com.
Our Martin Luther School principal met throughout the day with area health officials and school administrators. In a collective decision, area schools decided that classes will be suspended through April 3.
Immanuel's Church Council plans to meet again on March 31 to reassess the possibility of re-opening our campus.
We are still here for you! Call the church office at 417-624-0333 if we can help you in any way. In times of uncertainty, we will cling to Christ!
---
UPDATE: 11:30 am, Tuesday, March 17, 2020 — As we watch and weigh the recommendations from the CDC (Centers for Disease Control) we have decided to suspend our Wednesday evening Lenten Meals.
As of right now, worship services are still scheduled on our campus for 4:00 and 7:00 pm on Wednesday, March 18. Worshippers are asked to follow Immanuel's COVID-19 Safety Measures, detailed below. Remember: 1) Do not come to church if you or someone in your house has not been feeling well. 2) Wash hands, use hand sanitizer, and keep a safe social distance from others. 3) All services will be streamed on Facebook LIVE and reposted later on immanueljoplin.com. An audio version of the sermons will be included in our podcast as well.
Immanuel's Church Council will be meeting this evening (3/17) to discuss other future plans and possibilities. Do you have questions or input? Call the church office at 417-624-0333 or fill out our Contact Form.
---
COVID-19 Safety Measures at Immanuel
(published March 14, 2020; updated March 18, 2020)
NOTE: As of 3-18-20, our campus is closed for all meetings, activities, and worship services until further notice.
To show our care and concern for the health and safety of our members and community, Immanuel Lutheran Church will make these temporary changes to help prevent the spread of Coronavirus:
We encourage those who have not been feeling well to refrain from attending worship and other church activities.
We will go without shaking hands and other physical contact. Smiles and kind words are always encouraged.
Hand washing and use of hand sanitizer will be emphasized. Pastor and Elders will also re-sanitize before serving Communion.
Only individual cups will be used in the Sacrament for a while.
Offering plates and attendance books will not be passed. Offerings will be received in the back of the church as the congregation exits the service. Immanuel's online giving tool, GIVELIFY, is also available. (See our online giving page.)
Special food safety measures and extra cleaning of our facilities will be observed.
Worship services will be streamed on Facebook LIVE for those who are unable to attend in person. (Follow @immanueljoplin on Facebook.)
Following health guidelines, Louie Comfort Dog will not be making visits for several weeks. Pastoral visits are also being limited at certain facilities.
A group of volunteers from Immanuel will be available to do shopping, run errands, or otherwise help those with the highest risk, including older members, those with compromised immunity or chronic illness. Call the church office at 417-624-0333 to see how we can help someone in need. (Fill out our Contact Form if you need help, or would like to help.)
Our staff and leadership will continue to monitor the recommendations of the CDC and local health officials, making adjustments to our plan as necessary.
Go to immanueljoplin.com and check social media regularly, as worship services and other important messages are posted to keep you both encouraged and informed.
---
A Message from LCMS President Harrison Amid the Coronavirus Pandemic
The Lutheran Church – Missouri Synod | Pastor Matthew C. Harrison | lcms.org
(published March 13, 2020)
---
A Pastoral Letter Regarding Public Worship During the Coronavirus Outbreak from President Lee Hagan
Missouri District | The Lutheran Church – Missouri Synod | Office of the President | mo.lcms.org
(published March 12, 2020)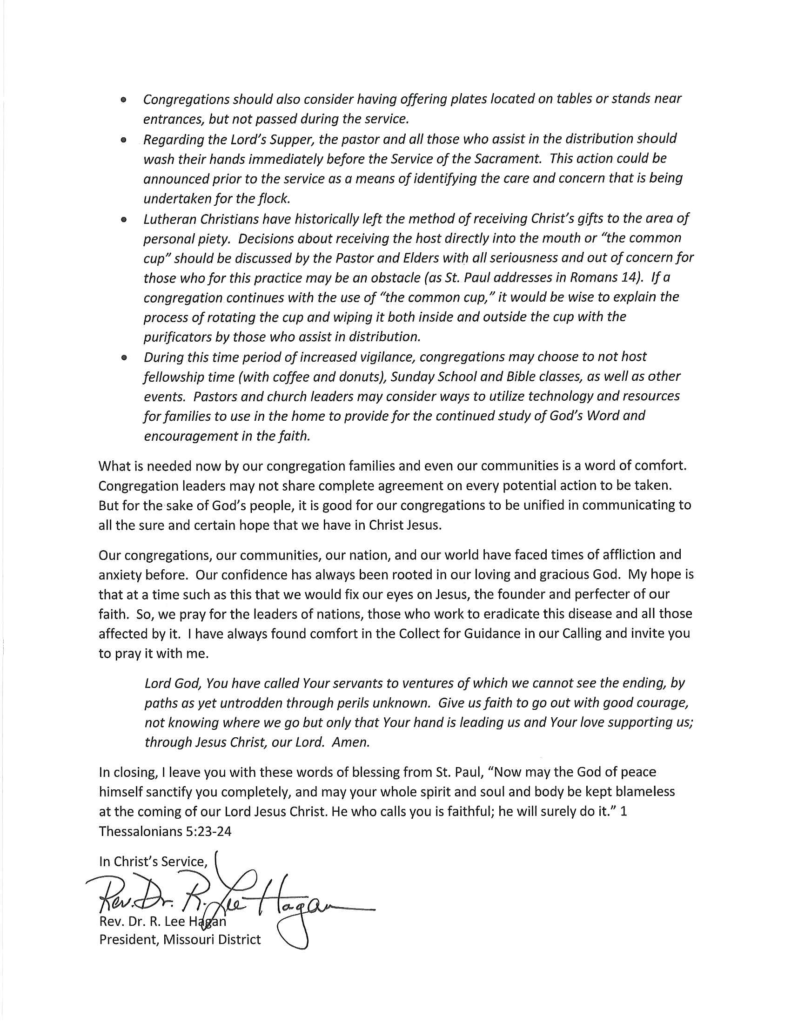 ---
Learn More