Wednesdays In Lent
Worship Service at 4:00 or 7:00 pm
Family-Friendly Meal served between services, from 5:00 to 6:45 pm.
Read our LENT DAILY DEVOTIONS.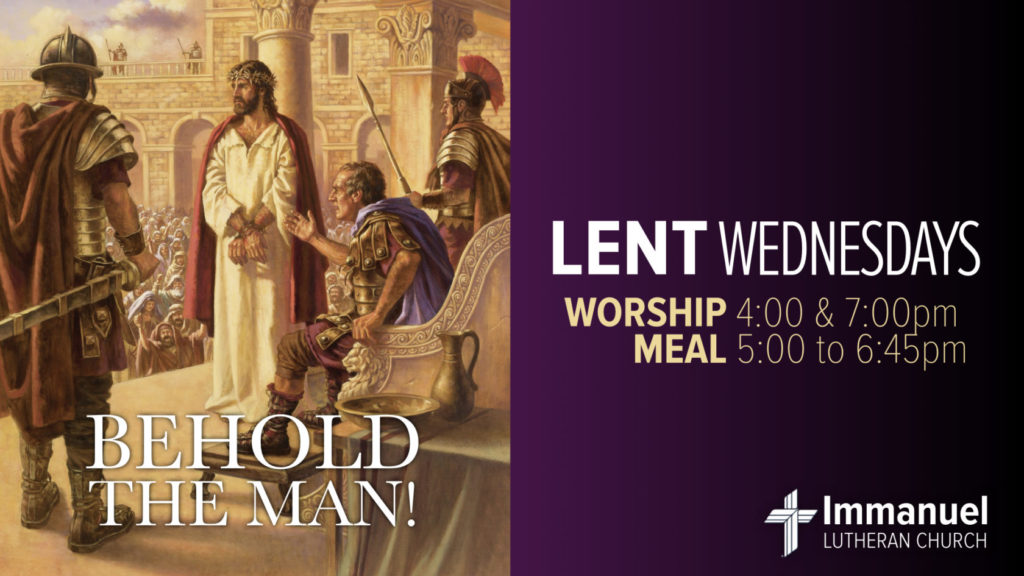 Join us each Wednesday in March and April 2019 until Easter for our 40-day journey with Jesus to the cross, featuring our Lenten Worship Services. The season of Lent serves not only as a time to meditate on the suffering that Christ endured on our behalf but also as an opportunity to reflect upon our own Baptism and what it means to live as a child of God.
Midweek Worship Services at 4:00 and 7:00 pm are held over the course of six weeks each Wednesday evening between March 6 and April 10. Enjoy a thoughtful, grace-filled worship service paired with a family-friendly meal served in the Fellowship Hall between services. Come as you are — straight from work or school. Relax, pray, and share with friends and family. Come, feed your body and soul at Immanuel Lutheran Church during Lent.
Lent 2019 Worship Series
Behold the man!
Pilate's command to the crowd at Jesus' crucifixion speaks an incredible truth—Jesus was indeed man. More specifically, He was God and man, an eternal being inhabiting a human body.
Jesus had a body. He had a nose. Knees. Toes. Bones. Fingerprints. He hungered, prayed, and bled. He had a mother, He drank wine, He was baptized.
This Lenten season, behold the man—the man who suffered, died, and rose again. The man who lived a perfect life and defeated death. The man whose death led to your life.
Ash Wednesday, March 6 | A God Who Hungers | Joel 2:12–19; 2 Corinthians 5:20b–6:10; Matthew 6:1–6, 16–21
Midweek 1, March 13 | A God Who Prays | Hebrews 7:20–28; John 17:1–26)
Midweek 2, March 20 | A God Beaten | Isaiah 52:13–53:12; John 18:19–24
Midweek 3, March 27 | A God Exposed | Genesis 3:7–21; John 19:1–5, 23–24
Midweek 4, April 3 | A God with a Mother | Revelation 12:1–6; John 19:25–27
Midweek 5, April 10 | A God Who Thirsts | Psalm 22:12–18; John 19:28–30
Holy Thursday, April 18 | A God Who Loves | Exodus 12:1–14; 1 Corinthians 11:23–32; John 13:1–17, 31b–35
Good Friday, April 19 | A God Who Bleeds, A God Who Dies | Isaiah 52:13–53:12; Hebrews 4:14–16; 5:7–9; John 18–19
Easter Vigil, April 20 | God Buried | John 19:38–42
Easter Sunday, April 21 | A God Who Rises | Isaiah 65:17–25; 1 Corinthians 15:19–26; John 20:1–18, or Luke 24:1–12
Behold the man. God is man. Jesus is the eternal Second Person of the Holy Trinity. He has existed eternally without a beginning. But then He took on flesh in the womb of His mother. And from that moment, God has had flesh—flesh just like yours, though unspoiled by sin.
In this holy Lententide, let us consider our Lord's humanity—His real body, with real body parts that perform all the real functions of a human body. We confess this Lent that Jesus, with His body, "has redeemed me, a lost and condemned person, purchased and won me from all sins, from death, and from the power of the devil; not with gold or silver, but with His holy, precious blood and with His innocent suffering and death" (Luther's explanation of the Second Article of the Apostles' Creed).
Learn More