Wednesdays In Lent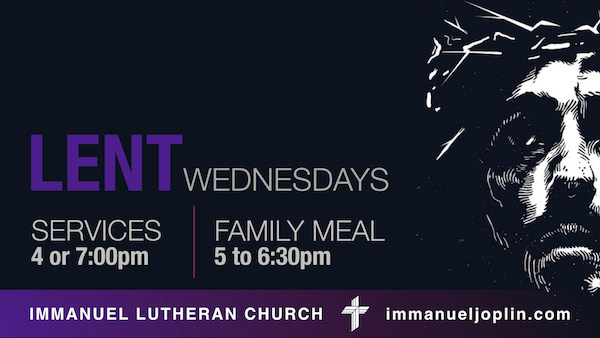 Worship Service at 4:00 or 7:00 pm
Family-Friendly Meal served between services, from 5:00 to 6:45 pm.
Read our LENT DAILY DEVOTIONS.
Join us each Wednesday between now and Easter for our 40-day journey with Jesus to the cross, featuring our Lenten Worship Services. The season of Lent serves not only as a time to meditate on the suffering that Christ endured on our behalf but also as an opportunity to reflect upon our own Baptism and what it means to live as a child of God.
Midweek Worship Services at 4:00 and 7:00 pm are held over the course of six weeks each Wednesday evening between February 14 and March 21. Enjoy a thoughtful, grace-filled worship service paired with a family-friendly meal served in the Fellowship Hall between services. Come as you are — straight from work or school. Relax, pray, laugh and share with friends and family. Come, feed your body and soul at Immanuel Lutheran Church during Lent.
Learn More