Wednesdays of Lent 2020
Lenten Worship Service at 4:00 or 7:00 pm
Family-Friendly Meal served between services, from 5:00 to 6:45 pm.
(Note: Due to Coronavirus concerns, Lenten Meals and Services have been suspended. We will stream our services on Facebook LIVE. Learn more on our Coronavirus Response Page.)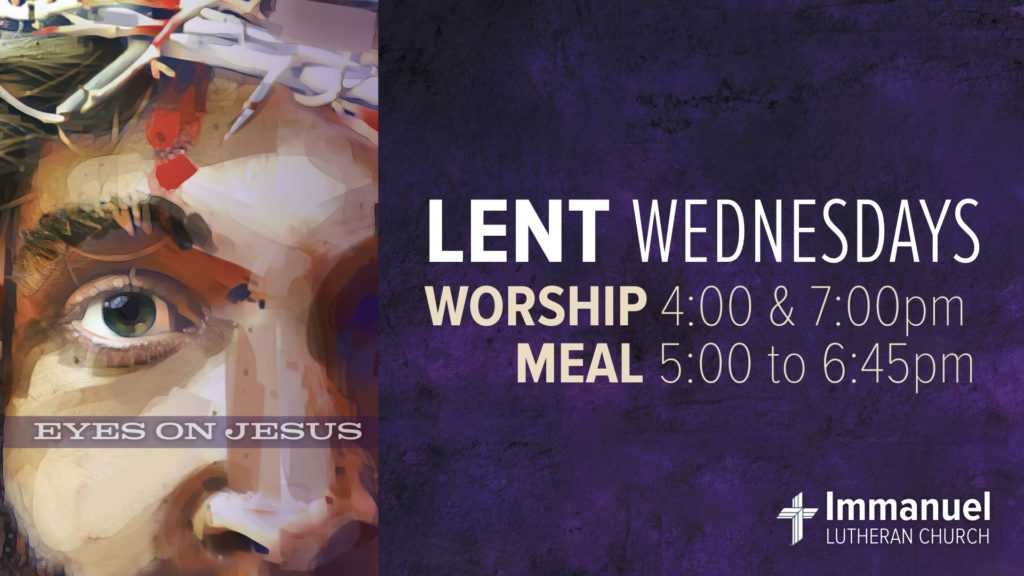 Join us each Wednesday during Lent — between February 26 and April 1 until Easter — for our 40-day journey with Jesus to the cross, featuring our Lenten Worship Services. The season of Lent serves not only as a time to meditate on the suffering that Christ endured on our behalf but also as an opportunity to reflect upon our own Baptism and what it means to live as a child of God.
Midweek Worship Services at 4:00 and 7:00 pm are held over the course of six weeks each Wednesday evening. Enjoy a thoughtful, grace-filled worship service paired with a family-friendly meal served in the Fellowship Hall between services. Come as you are — straight from work or school. Relax, pray, and share with friends and family. Come, feed your body and soul at Immanuel Lutheran Church during Lent 2020.
Lent 2020 Worship Series
O come, let us fix our EYES ON JESUS, the founder and perfecter of our faith, who for the joy that was set before Him endured the cross, despising the shame, and is seated at the right hand of the throne of God.

(Gradual for Lent, based on Hebrews 12:2)
Eyes On Jesus
When the characters in the Passion narrative look at Jesus, what do they see? In most cases, people misunderstood who He is and what He was doing. In some cases, by faith, people recognized Him aright. Our Lenten series this year, based on the Gospel according to St. Mark, will examine how the various people around Jesus viewed Him—and how we should view Him. We will "fix our eyes" on what Jesus has done to save us from our sins by His holy, precious blood and innocent sufferings and death, and celebrate what God sees on account of His work: our justification for His sake.
Ash Wednesday, February 26 | Misjudging Eyes | Mark 14:1–9
Midweek 1, March 4 | Betraying Eyes | Mark 14:10–21, 32, 41–46
Midweek 2, March 11 | Sleepy Eyes | Mark 14:32–42
Midweek 3, March 18 | Denying Eyes | Mark 14:26–31, 66–72
Midweek 4, March 25 | Murderous Eyes | Mark 14:1–2, 53–65
Midweek 5, April 9 | Worldly Eyes | Mark 15:1–20
Holy Thursday, April 10 | More Than Meets the Eye | Mark 14:22–25
Good Friday, April 11 | God's Eyes | Mark 15:21–39
Easter Vigil, April 12 | Resting Eyes | Mark 15:40–16:1
Easter Sunday, April 13 | Angel Eyes | Mark 16:1–8
Eyes on Jesus will continuously focus our eyes on Jesus Christ and Him crucified, buried, and risen for our justification. This is a vision that will never disappoint, for by trusting in Jesus, He promises that we will gaze upon His beautiful face now by faith and forever in heaven!
Learn More