Family Devotions in Four Easy Steps
Are you Taking Faith Home during the week? Devotions at home don't have to be complicated or time-consuming. The goal is to connect to God, His Word and to one-another. Our Kids Ministry Team recommends four parts to your family's daily devotional routine. Find a quiet moment together (after a meal, before bedtime, etc.) and do this:
HIGHS AND LOWS. What was the best part of your day? How about the hardest part? Give everyone in your group a chance to share.
READ. Share a Bible verse, an entire passage, or read a devotion or a Bible story book together out loud. (We suggest using a portion of the Taking Faith Home resource, found below.)
TALK. Discuss the Bible verse. Talk about God's action, His promises or what He is calling His people to do.
PRAY. Say a prayer together that you know by heart, or talk to God in your own words. Pray for one-another's highs and lows.
If you have questions or would like more help with this four-part family devotion approach, contact Immanuel's Youth and Family Minister, DCE Jason Glaskey.
Taking Faith Home
A Weekly Resource to Encourage Your Family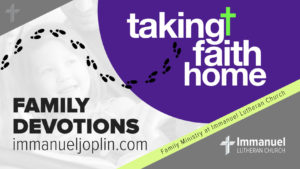 Taking Faith Home weekly flyers are a simple, yet effective, tool to help your family extend their faith formation practices in your home. Based on the worship scripture text for the week, each flyer contains faith-building scripture, activities and devotions designed to help your family share and live their faith together during the week.
Read This Week's Resource On Your Device
With a variety of activities to choose from, the flyers offer something for everyone. Here are some of its key features:
Based on the Revised Common Lectionary used by many congregations
Gives examples of each of the Four Key Faith Practices (caring conversations, devotions, service, and rituals and traditions)
Includes a weekly prayer, Bible verse, mealtime prayer, and blessing
Offers suggested daily Bible readings
Read the Taking Faith Home User Guide to see how this resource can be used for home devotions, Bible study groups, and other small group settings, including congregational boards and committees.
Learn More