Family Devotions in Five Easy Steps
Are you Taking Faith Home during the week—staying connected to God's gifts as a family? Devotions at home don't have to be complicated or time-consuming. The goal is to connect to God, His Word and to one-another. Our Kids Ministry Team recommends five simple parts to your family's daily devotional routine. Find a quiet moment together (after a meal, before bedtime, etc.) and do this:
HIGHS AND LOWS. What was the best part of your day? How about the hardest part? Give everyone in your group a chance to share.
READ. Share a Bible verse, an entire passage, or read a devotion or a Bible story book together out loud. (We suggest using a portion of the Taking Faith Home resource, found below.)
TALK. Discuss the Bible verse. Talk about God's action, His promises or what He is calling His people to do.
PRAY. Say a prayer together that you know by heart, or talk to God in your own words. Pray for one-another's highs and lows.
BLESS. Share a hug! Make the sign of the cross and bless one another. Tell your family that God loves them and you love them too.
If you have questions or would like more help with this five-part family devotion approach, contact Immanuel's Youth and Family Minister, DCE Jason Glaskey.
The Family Altar
A Routine that Creates a Lifelong Rhythm of Faith
God comes to us through His Word and Sacraments during worship at church, and then the family's devotional life at home keeps its members connected to those gifts all week long. This routine creates a lifelong rhythm that helps keep kids in the faith throughout all stages of their lives.
Family Devotion Resources
There are a variety of resources that we recommend for great family devotional time throughout the week. From children's bibles and storybooks, hymnals and catechisms, we would love to help you find a devotional book or two to fit your needs. Immanuel's Family Minister, DCE Jason Glaskey has stacks of resources, and would be thrilled to visit with you and share some recommendations. Click the link and reach out!
Growing In Worship
Growing in Worship weekly kid-friendly worship bulletins involve children in the worship service so they learn, follow, and participate in the order of worship. Colorful and interactive, this four-page weekly worship folder coordinates with each Sunday's readings to highlight the weekly theme and message of the day. They work great as a starting place for family devotions throughout the week as well. Features of the worship folder include: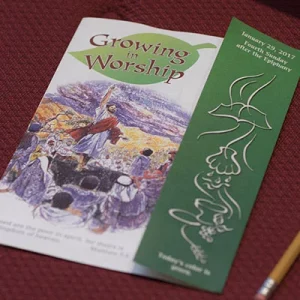 PRAY! The child-friendly Collect Prayer highlights the prayer of the day. Realistic artwork conveys that the Bible stories and lessons are real and connects children to the message of the day.
SEE! Eye-opening activity gets children looking at the chancel, symbols, banners, paraments, and furnishings of the church service, delivering understanding on what they see.
DO! Engaging activity reinforces the message of the Gospel reading.
HEAR! A checklist of Gospel highlights prompts children to follow the reading. Less familiar words are explained, which increases Bible vocabulary and forms bridges to understanding.
WORDS TO KNOW! Simple definitions provide context for understanding and aid comprehension of unfamiliar words used during the worship service.
DID YOU KNOW? An intriguing fact sparks thinking about each week's Gospel message.
FAMILY FAITH TALK! Brief, daily activity for families encourages faith discussion. Six days of the week, timely tasks are suggested that parents can use as their child's faith teachers.
CHURCH CALENDAR Dated with the festival and seasonal color connects young worshipers with the church year lectionary.
Immanuel also provides WORSHIP BAGS for smaller children with Children's Activity Bulletins for the week, crayons, stickers, story books and more. These "busy bags" are replenished each week with new faith and worship-related items to explore.
Learn More