Holy Week Services and Activities
Immanuel-Joplin welcomes you to our In-Person Worship Services. You can also find our LIVE and archived broadcasts on Facebook, YouTube, or on our Sermons Page.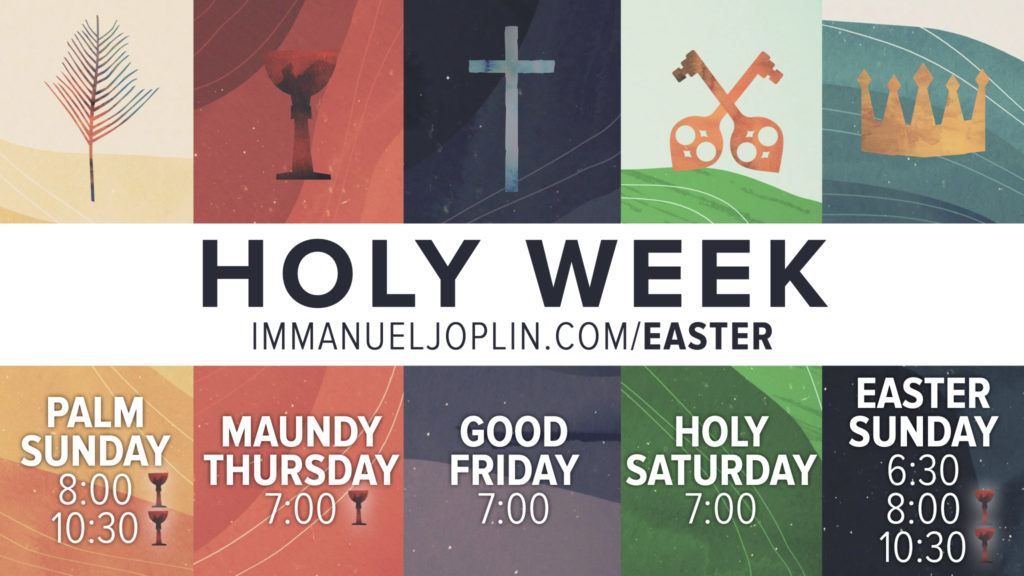 April 2-9, 2023
Holy Week is the week leading up to Easter Sunday, which includes Palm Sunday, Maundy Thursday, and Good Friday. Holy Week is also known as The Great Week and Passion Week. During this time, Christians remember Jesus' journey to the cross as He triumphantly entered Jerusalem, washed His disciples' feet and instituted the Lord's Supper, was betrayed, wrongfully accused, beaten, scorned, crucified and killed for the sins of mankind. After three days in the grave, we remember Jesus' resurrection—rising from the dead—on the first Easter morning.
Immanuel Lutheran Church in Joplin, Missouri spends much time in worship, prayer, and service during Holy Week. We hope you will join us and learn of Jesus' great love for you. You are welcome to participate throughout Holy Week and on Easter Sunday too!
Join Us During Holy Week!
---
---
---
Holy Saturday Easter Vigil – April 8, 2023
---
EASTER SUNDAY, APRIL 9, 2023
Join Us IN-PERSON or ONLINE!
Sunrise Service – 6:30am
Easter Festival Communion Services – 8:00 & 10:30am
THE BREAKFAST AND EGG HUNT ARE BACK THIS YEAR!
Easter Breakfast – served between services until 10:00am
Served in the School Gym – Open to the public
Fruit Salad – Eggs – Sausage – Biscuits & Gravy – Donuts
Orange Juice – Coffee – Milk
Limited menu is available beginning at 7:30am
Full breakfast begins at 9:00am
Hosted by Immanuel Youth and Board of Elders
A free-will offering will be taken.
Proceeds will go to the Youth Ministry.
Children's Easter Egg Hunt – 9:45am
for toddlers thru 4th Grade
Meet in the gym
Bring a Basket!
Sponsored by Immanuel's Board of Christian Education and Kids Ministry department
Learn More