Immanuel Lutheran Church welcomes Rev. Christopher Ramstad as our new Pastor!
(Installation Service on Saturday, September 9, 2023 at 4:00 pm — All are welcome!)
Pastor Chris comes to us from Immanuel Lutheran Church in Columbus, Nebraska, where he has served as Associate Pastor for the past five years. He is a 2018 graduate of Concordia Seminary in Saint Louis with a Master of Divinity degree.
Before becoming a pastor, Chris Ramstad and his then soon-to-be-wife Mollie (Hanlin) graduated in 2009 from Concordia University in Seward, Nebraska, serving God and the people of Immanuel Lutheran Church and School in St. Charles, Missouri for several years as Lutheran Elementary School Teachers. In earlier years Pastor Ramstad also spent time working in Lutheran Camp Ministry. Pastor Chris was born and raised in Cedar Rapids, Iowa.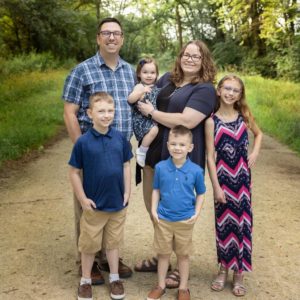 Pastor Chris' wife Mollie is a gifted and talented teacher and musician, with a passion for piano, choir and band. Currently a stay-at-home mom, Mollie is soon to complete a Master's Degree in School Administration. The Ramstads have four young children—Katheryne, Bryan, Paul and Olivia.
Pastor Ramstad prioritizes being active and joyful—connecting with people and connecting them to Christ and His Word. Pastor Chris follows several professional sports teams, including St. Louis Cardinals baseball, Blues hockey and Kansas City Chiefs football. He, Mollie, and the kids love to spend time outdoors, and they also get really excited about playing board games with friends.
Welcome, Pastor Ramstad and family!