Immanuel is back to In-Person Worship Services. You can also find our services and sermons on FACEBOOK. We also post them on our WEBSITE.
Good Friday
7:00 pm Worship Service | 9:00 am to 3:00 pm Prayer Vigil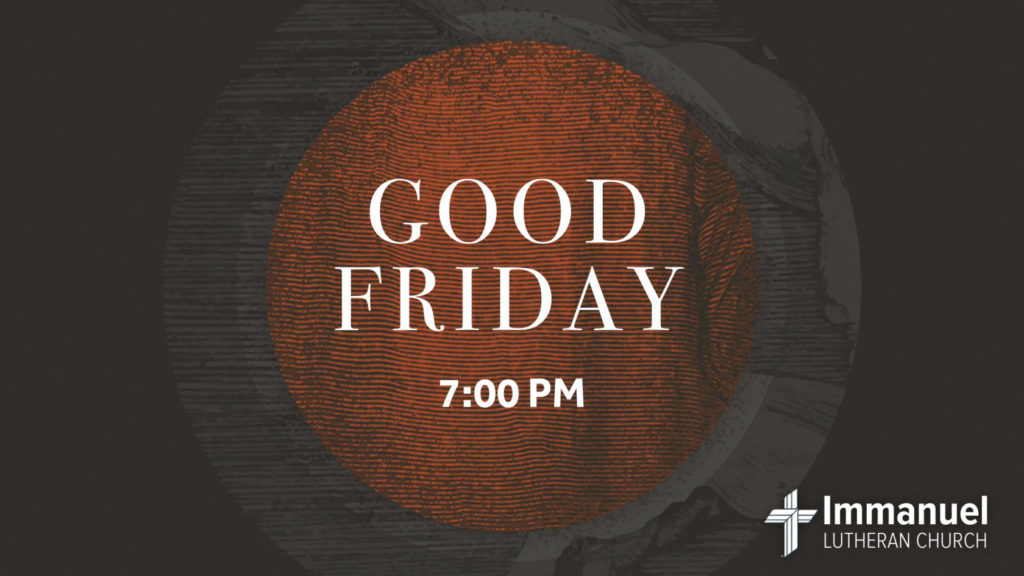 The Friday in Holy Week is a time for remembering Jesus death. Scripture records that Jesus hung on the cross from noon until 3:00pm. Our congregation traditionally observes a prayer vigil and an evening service. This is the second day of special observance for which fasting is recommended. One should use discretion in decided how best to observe this day. There is no celebration of Communion from Maundy Thursday until the Easter Vigil on late Saturday or early Sunday.
"Return to the LORD your God, for He is gracious and merciful, slow to anger, and abounding in steadfast love."

(Joel 2:13)
God is calling you to return.
Return to the Lord… God's invitation and promise finds its fullness in Jesus Christ, who personified and accomplishes all that God declares. Follow different events during the Passion, specifically focusing on the people that followed Christ, to see how God calls His people to return to Him this Lenten season.
Ash Wednesday, February 17 | A Call to Return | Matthew 6:1–6, 16–21
Midweek 1, February 24 | Return to Prayer | Matthew 36:36–46
Midweek 2, March 3 | Return from Betrayal | John 18:1–11
Midweek 3, March 10 | Return from False Witness | Matthew 26:57–68
Midweek 4, March 17 | Return from Denial | Luke 22:54–62
Midweek 5, March 24 | Return to the Kingdom of God | John 18:28
Holy Thursday, April 1 | Return to the Table | Mark 14:12–26
Good Friday, April 2 | Return to the Truth | John 19:1–16
Easter Sunday, April 4 | Return and See | Matthew 28:1–10
Follow the Passion narrative and its practical applications for those who walked alongside Jesus as He carried out God's grace and mercy for all. Listeners will reflect on their own sinful nature, understand how they have turned away, and delight in God's call to return to Him wholeheartedly.
Learn More