Easter 2019 Is Resurrection Day!
Worship Services at 6:30, 8:00 and 10:30 am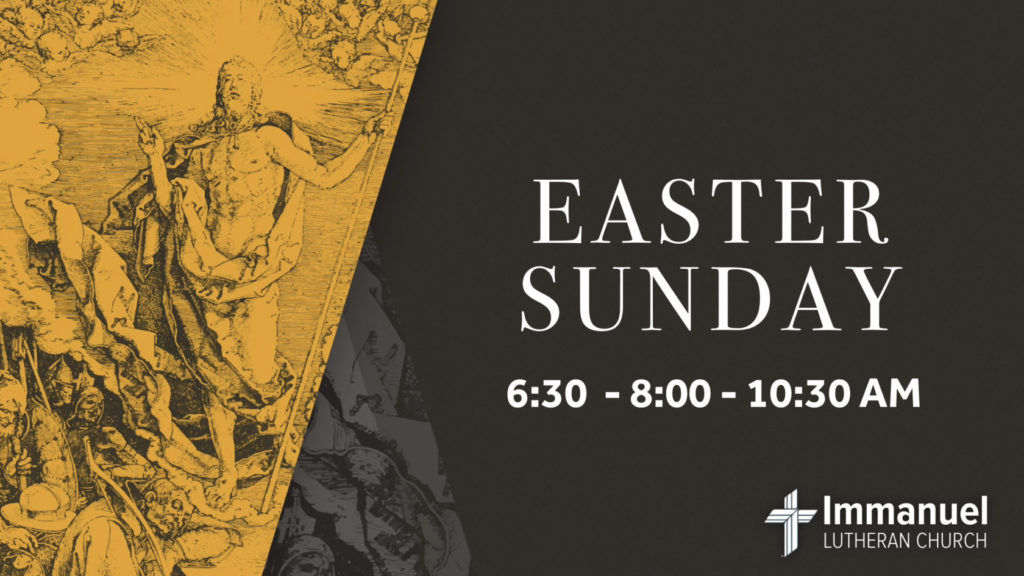 He is Risen! The time of Lent is over. Holy Week has passed. Jesus, who died, is most certainly alive! Join us at Immanuel Lutheran Church in Joplin, Missouri as we celebrate all that God has done for us through Jesus Christ His Son. Forgiveness, Life, and Salvation have been won, and our victory over sin, death, and the power of the Devil is certain. Join us for Easter At Immanuel!
Sunrise Service – 6:30 am
Easter Festival Communion Services – 8:00 am & 10:30 am
Easter Breakfast – served between services until 10:00 am
Served in the School Gym – Open to the public
Fruit Salad – Eggs – Sausage – Biscuits & Gravy – Donuts
Orange Juice – Coffee – Milk
Limited menu is available beginning at 7:30 am
Full breakfast begins at 9:00 am
Hosted by Immanuel Youth and Board of Elders
A free-will offering will be taken.
Proceeds will go to the Youth Ministry.
Children's Easter Egg Hunt – 9:45 am
for toddlers thru 4th Grade
Meet in the gym
Bring a Basket!
Sponsored by Immanuel's Sunday School department
Learn More