Sermon for Lent Midweek 5
Rev. Gregory Mech | April 1, 2020 | Immanuel Lutheran Church – Joplin, MO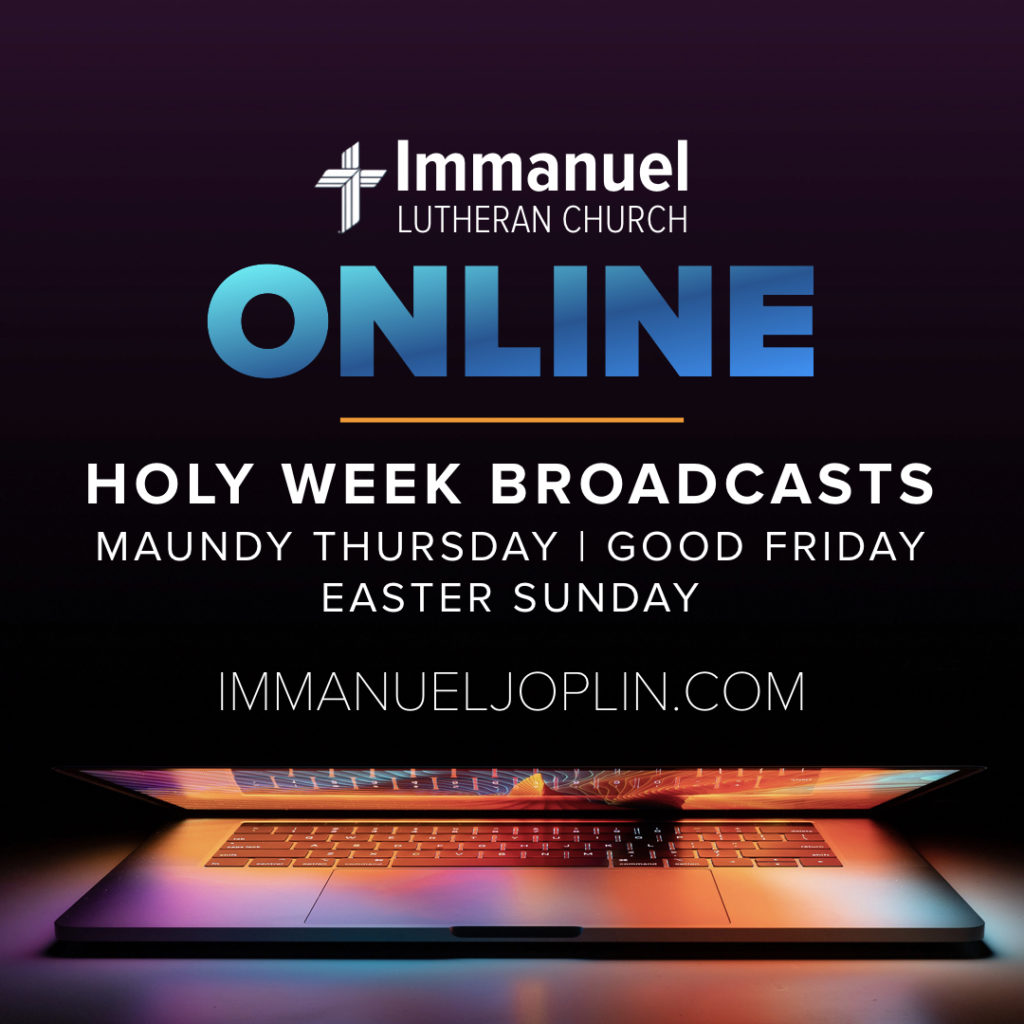 ---
Eyes on Jesus: Worldly Eyes
This Lent, we will use the metaphor of eyesight to examine how the various people in Mark's Gospel viewed Jesus during His Passion. In most cases, they misunderstood who He was and what He was doing; then again, sometimes by faith people did recognize Him correctly.
We have these forty days of Lent in which we may look within ourselves as people of faith in our day. How are we like or unlike the people who saw Jesus in the flesh? Most important, as we gather for worship, we will see what Jesus has done to save us from our sins by His holy, precious blood and innocent sufferings and death.
Today, we learn of Pilate's worldly view and how, to keep his position and placate the Jewish leaders and crowd, he handed Jesus over for crucifixion. The soldiers saw the opposite of a worldly king, but their ironic hailing of Him as "King of the Jews" proclaims who He really is. The world looks for power and glory; God's way is suffering and the cross. Which way do we look in the daily decisions we make?
© 2019 Concordia Publishing House. Scripture: ESV®
Our sermon text is from Jesus' Passion Narrative found in Mark 15:1-20.
This Lent, we are looking at the events of our Lord's Passion through the eyes of some of the people who witnessed it. Today, we find ourselves speaking the words of the chief priests and the soldiers, the groups who called for Jesus' execution and ironically called Him "King."
The Passion of Our Lord according to St. Mark, the 15th chapter.
And as soon as it was morning, the chief priests held a consultation with the elders and scribes and the whole council. And they bound Jesus and led Him away and delivered Him over to Pilate. And Pilate asked Him, "Are You the King of the Jews?" And He answered him,
You have said so.
And the chief priests accused Him of many things. And Pilate again asked Him, "Have You no answer to make? See how many charges they bring against You." But Jesus made no further answer, so that Pilate was amazed. Now at the feast he used to release for them one prisoner for whom they asked. And among the rebels in prison, who had committed murder in the insurrection, there was a man called Barabbas. And the crowd came up and began to ask Pilate to do as he usually did for them. And he answered them, saying, "Do you want me to release for you the King of the Jews?" For he perceived that it was out of envy that the chief priests had delivered Him up. But the chief priests stirred up the crowd to have him release for them Barabbas instead. And Pilate again said to them, "Then what shall I do with the man you call the King of the Jews?" And they cried out again,
Crucify Him.
And Pilate said to them, "Why? What evil has He done?" But they shouted all the more,
Crucify Him.
So Pilate, wishing to satisfy the crowd, released for them Barabbas, and having scourged Jesus, he delivered Him to be crucified. And the soldiers led Him away inside the palace (that is, the governor's headquarters), and they called together the whole battalion. And they clothed Him in a purple cloak, and twisting together a crown of thorns, they put it on Him. And they began to salute Him,
Hail, King of the Jews!
And they were striking His head with a reed and spitting on Him and kneeling down in homage to Him. And when they had mocked Him, they stripped Him of the purple cloak and put His own clothes on Him. And they led Him out to crucify Him.
O Lord, have mercy on us.
Thanks be to God.
English Standard Version (ESV) The Holy Bible, English Standard Version. ESV® Text Edition: 2016. Copyright © 2001 by Crossway Bibles, a publishing ministry of Good News Publishers.
---
Announcements
Immanuel is moving to ONLINE ONLY till we can meet together again. Join us ONLINE this Sunday @ 8 or 10:30!
Sunday Worship and Lenten Services will be available on Facebook LIVE. Look for us at facebook.com/immanueljoplin.
Sermons, updates and other resources for your family will be posted regularly at immanueljoplin.com.
NEED HELP? WE ARE HERE FOR YOU. Call the church office at 417-624-0333 (or fill out the online Contact Form) if we can help you in any way.
In times of uncertainty, we will cling to Christ! God is with us.
Lent 2020 Worship Series
O come, let us fix our EYES ON JESUS, the founder and perfecter of our faith, who for the joy that was set before Him endured the cross, despising the shame, and is seated at the right hand of the throne of God.

(Gradual for Lent, based on Hebrews 12:2)
Eyes On Jesus
When the characters in the Passion narrative look at Jesus, what do they see? In most cases, people misunderstood who He is and what He was doing. In some cases, by faith, people recognized Him aright. Our Lenten series this year, based on the Gospel according to St. Mark, will examine how the various people around Jesus viewed Him—and how we should view Him. We will "fix our eyes" on what Jesus has done to save us from our sins by His holy, precious blood and innocent sufferings and death, and celebrate what God sees on account of His work: our justification for His sake.
Ash Wednesday, February 26 | Misjudging Eyes | Mark 14:1–9
Midweek 1, March 4 | Betraying Eyes | Mark 14:10–21, 32, 41–46
Midweek 2, March 11 | Sleepy Eyes | Mark 14:32–42
Midweek 3, March 18 | Denying Eyes | Mark 14:26–31, 66–72
Midweek 4, March 25 | Murderous Eyes | Mark 14:1–2, 53–65
Midweek 5, April 9 | Worldly Eyes | Mark 15:1–20
Holy Thursday, April 10 | More Than Meets the Eye | Mark 14:22–25
Good Friday, April 11 | God's Eyes | Mark 15:21–39
Easter Vigil, April 12 | Resting Eyes | Mark 15:40–16:1
Easter Sunday, April 13 | Angel Eyes | Mark 16:1–8
Eyes on Jesus will continuously focus our eyes on Jesus Christ and Him crucified, buried, and risen for our justification. This is a vision that will never disappoint, for by trusting in Jesus, He promises that we will gaze upon His beautiful face now by faith and forever in heaven!
Learn More