Sermon for Holy Thursday
Rev. Gregory Mech | Maundy Thursday, April 9, 2020 | Immanuel Lutheran Church – Joplin, MO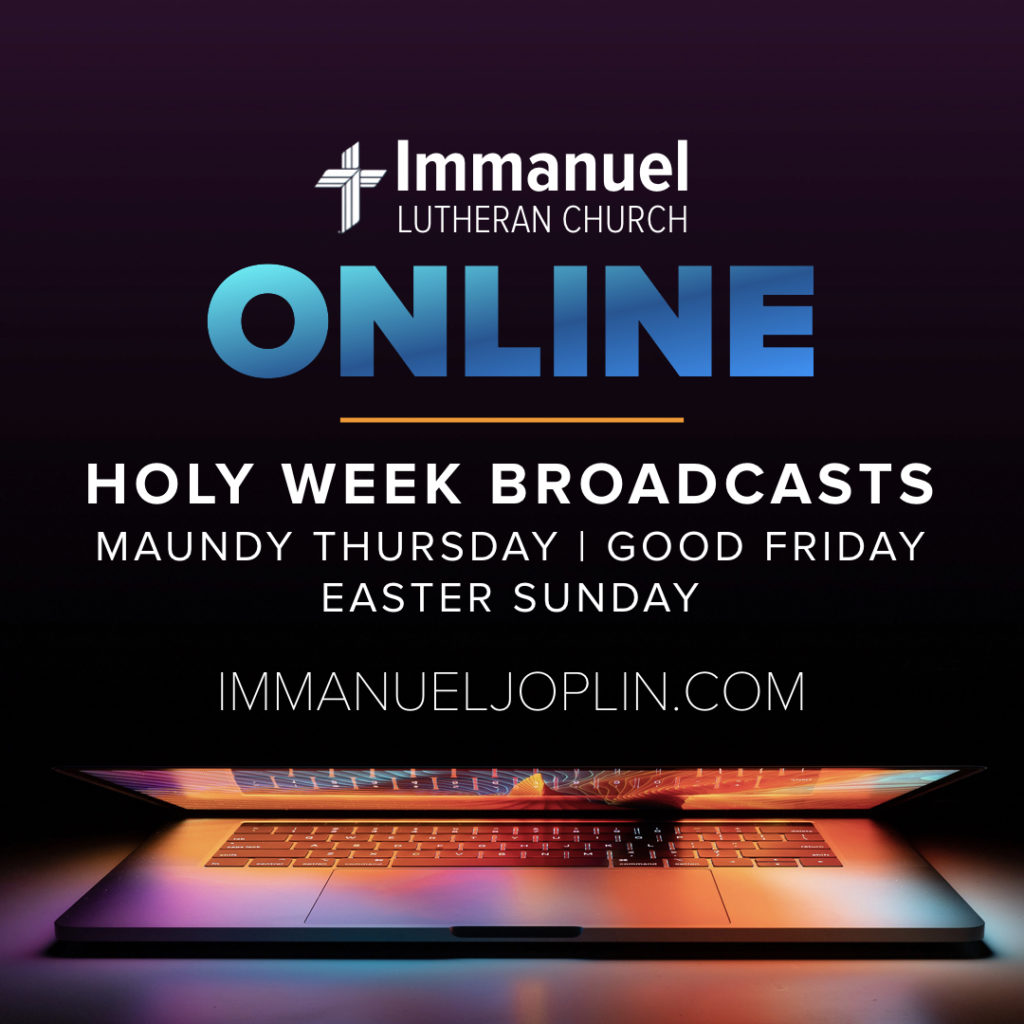 ---
Eyes on Jesus: More Than Meets The Eye
This Lent, we have been using the metaphor of eyesight to examine how the various people in Mark's Gospel viewed Jesus during His Passion. In most cases, they misunderstood who He was and what He was doing; then again, sometimes by faith people did recognize Him correctly.
As we conclude these forty days of Lent, looking within ourselves as people of faith in our day, we again ask how we are like or unlike the people who saw Jesus in the flesh. Most important, as we gather for worship, we see again what Jesus has done to save us from our sins by His holy, precious blood and innocent suffering and death.
It is difficult for us to look through the eyes of the disciples when they were celebrating Passover, but it was within that context that Jesus pronounced the bread and wine to be His body and blood. Today, it is within the liturgy of the Lord's Supper that our Lord's words call us to recognize more than meets our physical eyes. What do we perceive?
© 2019 Concordia Publishing House. Scripture: ESV®
Our sermon text is from Jesus' Passion Narrative found in Mark 14.
Jesus reveals that the disciples are receiving more than bread and wine at the Passover on the night in which He was betrayed.
The Passion of Our Lord according to St. Mark, the 14th chapter.
As they were eating, [Jesus] took bread, and after blessing it broke it and gave it to them, and said, "Take; this is My body." And He took a cup, and when He had given thanks, He gave it to them, and they all drank of it. And He said to them, "This is My blood of the covenant, which is poured out for many. Truly, I say to you, I will not drink again of the fruit of the vine until that day when I drink it new in the kingdom of God."
This is the Word of the Lord.
Thanks be to God.
English Standard Version (ESV) The Holy Bible, English Standard Version. ESV® Text Edition: 2016. Copyright © 2001 by Crossway Bibles, a publishing ministry of Good News Publishers.
---
Announcements
Immanuel is moving to ONLINE ONLY till we can meet together again. Join us ONLINE this Sunday @ 8 or 10:30!
Sunday Worship and Lenten Services will be available on Facebook LIVE. Look for us at facebook.com/immanueljoplin.
Sermons, updates and other resources for your family will be posted regularly at immanueljoplin.com.
NEED HELP? WE ARE HERE FOR YOU. Call the church office at 417-624-0333 (or fill out the online Contact Form) if we can help you in any way.
In times of uncertainty, we will cling to Christ! God is with us.
Lent 2020 Worship Series
O come, let us fix our EYES ON JESUS, the founder and perfecter of our faith, who for the joy that was set before Him endured the cross, despising the shame, and is seated at the right hand of the throne of God.

(Gradual for Lent, based on Hebrews 12:2)
Eyes On Jesus
When the characters in the Passion narrative look at Jesus, what do they see? In most cases, people misunderstood who He is and what He was doing. In some cases, by faith, people recognized Him aright. Our Lenten series this year, based on the Gospel according to St. Mark, will examine how the various people around Jesus viewed Him—and how we should view Him. We will "fix our eyes" on what Jesus has done to save us from our sins by His holy, precious blood and innocent sufferings and death, and celebrate what God sees on account of His work: our justification for His sake.
Ash Wednesday, February 26 | Misjudging Eyes | Mark 14:1–9
Midweek 1, March 4 | Betraying Eyes | Mark 14:10–21, 32, 41–46
Midweek 2, March 11 | Sleepy Eyes | Mark 14:32–42
Midweek 3, March 18 | Denying Eyes | Mark 14:26–31, 66–72
Midweek 4, March 25 | Murderous Eyes | Mark 14:1–2, 53–65
Midweek 5, April 9 | Worldly Eyes | Mark 15:1–20
Holy Thursday, April 10 | More Than Meets the Eye | Mark 14:22–25
Good Friday, April 11 | God's Eyes | Mark 15:21–39
Easter Vigil, April 12 | Resting Eyes | Mark 15:40–16:1
Easter Sunday, April 13 | Angel Eyes | Mark 16:1–8
Eyes on Jesus will continuously focus our eyes on Jesus Christ and Him crucified, buried, and risen for our justification. This is a vision that will never disappoint, for by trusting in Jesus, He promises that we will gaze upon His beautiful face now by faith and forever in heaven!
Learn More