Service for the Last Sunday of the Church Year
Rev. Gregory Mech, pastor | November 21, 2021 | Last Sunday | Immanuel Lutheran Church – Joplin, Missouri | 8:00 or 10:30 am
We stream our worship services, and hope you will join our online community if you are unable to attend in person. Welcome! immanueljoplin.com/LIVE
Face Masks Encouraged | We hope to see you back for an In-Person Service! Learn more at immanueljoplin.com/COVID
Thank you for supporting Immanuel Lutheran financially. Use our Givelify app! Learn more at immanueljoplin.com/GIVE.
Martin Luther School is Joplin's Lutheran School, serving children from age 2 through 8th grade. Learn more and receive a FREE Educational Success Consultation! Call 417-624-1403.
Fill out our annual TIME AND TALENT SURVEY online! Your church family wants to help you connect your gifts and talents with the many opportunities to serve in this place. There's a special survey for kids too! immanueljoplin.com/TIMEANDTALENT.
Immanuel Youth are raising money for next Summer's LCMS Youth Gathering in Houston, Texas. Stop by their COFFEE CART between services (located next to the Welcome Center) for a warm drink and learn about their CHIEFS FOOTBALL TICKET RAFFLE! immanueljoplin.com/CHIEFSRAFFLE
---
Special thanks to all who helped to make this broadcast possible today:
Rev. Gregory Mech, DCE Jason Glaskey, organist Betty Lingenfelter, Altar Guild, Board of Elders, and all of our volunteers! Join us this Wednesday, November 24 at 7:00 pm for our Thanksgiving Eve Service with Holy Communion.
---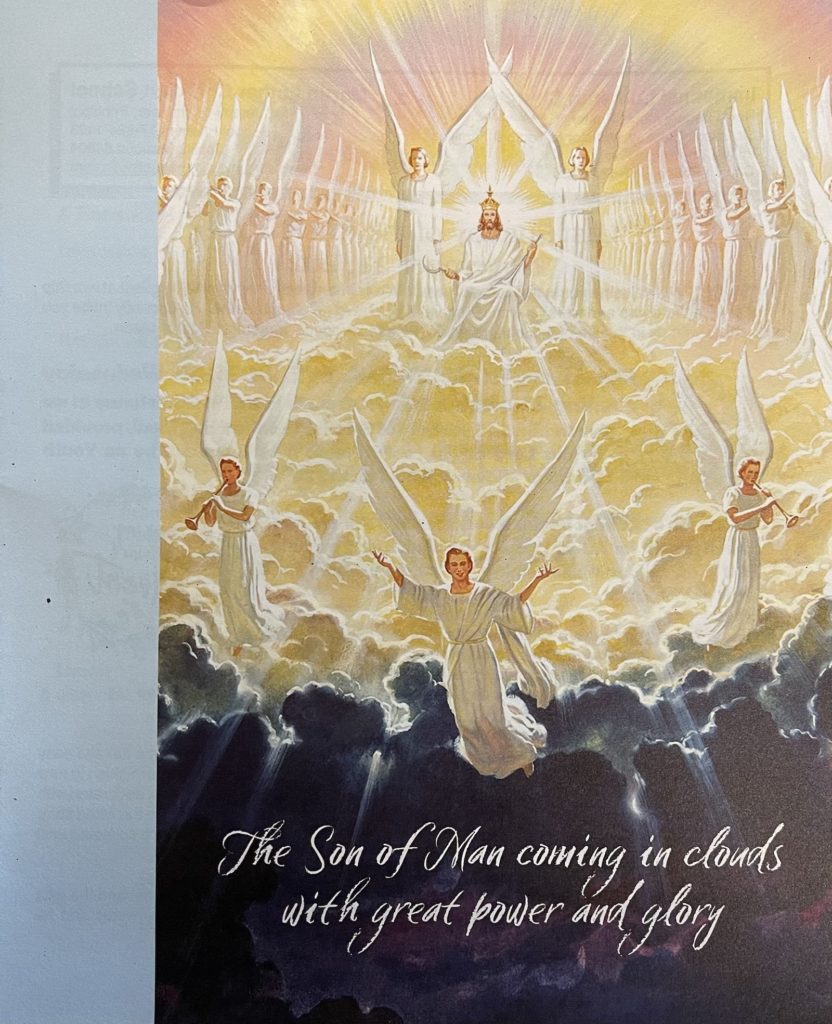 Jesus said, "They will see the Son of Man coming in clouds with great power and glory. Mark 13:24-37
Today another cycle through the Scripture draws to a close with the Last Sunday of the Church Year. Welcome to Immanuel Lutheran Church LCMS in Joplin, Missouri! May you be fed by God's life-giving Word as you join us in person or online. Please let us know how we can serve you, pray for you, or answer any questions you may have. immanueljoplin.com/CONTACT
---
Holy Gospel Mark 13:24-37
The Holy Gospel according to St. Mark, the thirteenth chapter.
Glory to You, O Lord.
"In those days, after that tribulation, the sun will be darkened, and the moon will not give its light, and the stars will be falling from heaven, and the powers in the heavens will be shaken. And then they will see the Son of Man coming in clouds with great power and glory. And then he will send out the angels and gather his elect from the four winds, from the ends of the earth to the ends of heaven.
"From the fig tree learn its lesson: as soon as its branch becomes tender and puts out its leaves, you know that summer is near. So also, when you see these things taking place, you know that he is near, at the very gates. Truly, I say to you, this generation will not pass away until all these things take place. Heaven and earth will pass away, but my words will not pass away.
"But concerning that day or that hour, no one knows, not even the angels in heaven, nor the Son, but only the Father. Be on guard, keep awake. For you do not know when the time will come. It is like a man going on a journey, when he leaves home and puts his servants in charge, each with his work, and commands the doorkeeper to stay awake. Therefore stay awake—for you do not know when the master of the house will come, in the evening, or at midnight, or when the cock crows, or in the morning— lest he come suddenly and find you asleep. And what I say to you I say to all: Stay awake."
This is the Gospel of the Lord.Praise to You, O Christ.
Learn More