Join Pastor Mech in the Church Fellowship Hall each Sunday morning for the Fellowship Bible Study. This group of more than 50 adults enjoy learning together about a variety of topics throughout the year. The class is open to all adults, and is held between the two Sunday services from 9:15 to 10:15 am. Bring a Bible along if you like, pour a cup of coffee and have a seat! Details of the current topic are found below.
Idols We Never Knew We Had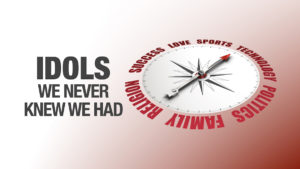 We all worship something or someone every day. In doing so, we make these objects our gods. Although many people think of idolatry as a primitive practice of ancient cultures or third-world tribes, it's as big an issue in today's Western world as it has ever been. In fact, one could argue that the idolatry we practice in the United States is more shameful and dangerous than bowing down to carved images because we don't even realize we're guilty of it. In this study participants will identify many present-day idols and be equipped by God's Word to avoid falsely worshiping them.
Topics covered include:
Are We Really Idolaters?
Success
Love
Sports
Technology
Politics
Family
Religion
Learn More