Join Pastor Mech in the Church Fellowship Hall each Sunday morning for the Fellowship Bible Study. This group of more than 50 adults enjoy learning together about a variety of topics throughout the year. The class is open to all adults, and is held between the two Sunday services from 9:15 to 10:15 am. Bring a Bible along if you like, pour a cup of coffee and have a seat! Details of the current topic are found below.
for the faint of heart: hope for the hurting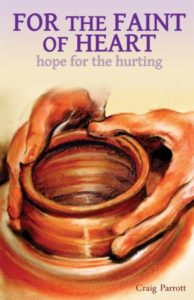 "For the Faint of Heart: Hope for the Hurting" is a book written by David Parrott. This Bible study should be helpful to everyone who knows someone who is hurting. We will read the book, search the Scriptures, and share the hope the Lord has provided. Copies of the book are provided free of charge to each participant. Read the book summary from the back cover:
Whether you are personally undergoing a severe trial in your life, ministering to hurting people, or teaching a class on suffering, you will find a quick and profound resource in For the Faint of Heart. Written in a conversational style, the author aims to give readers hope by directing them to God's grace and precious promises.
For the Faint of Heart will concisely and biblically address life's most difficult questions that arise during times of trial.
"In this era of empty five-step quick fixes, Craig offers us genuine insight culled from Scripture, from great writings past and present, and from his own experiences. He comforts as he has been comforted, as he speaks to many of the harder questions that thinking and feeling Christians contemplate. I highly recommend For the Faint of Heart, for it ministered to me in its elegance, wisdom, and tenderness." -Dr. Andrew Spitznas, M.D., Staff Psychiatrist at the Institute of Living and Instructor of Clinical Psychiatry at the University of Connecticut
"Those looking for brief yet thoughtful and helpful responses to our common human question, 'Why me?' will find them here. For the Faint of Heart is a series of readable biblical reflections on the questions and problems we face when life confronts us with sin, pain, and death. Among the handful of good books on suffering, I will offer this little volume first to those seeking to understand their struggles." -Dr. Russell Moulds, Ph.D., Professor at Concordia University, Seward, Nebraska
"For the Faint of Heart provides a wonderfully fresh perspective to an old topic: how to deal with the struggles and setbacks of life. His Christ-centered approach is absolutely right on. Craig's book is a gift to the Body of Christ. It should be read by any Christian who needs encouragement and who wants to be a source of encouragement to others." -Rev. David Ahlman, Senior Pastor, Peace Lutheran Church, Arvada, Colorado