Worship Service for The Second Sunday after Christmas
Rev. Gregory Mech | January 3, 2021 | Christmas Week 2 | Divine Service, Setting One with Holy Communion | Immanuel Lutheran Church ONLINE and IN-PERSON – Joplin, Missouri | 8:00 and 10:30 am
Still Wearing Face Masks, Some Classes and On-Campus Activities Have Returned | In-Person Services and Holy Communion are back! Limited Seating. Learn more.
Rewatch our Special Services from Christmas Eve, Christmas Day and New Year's Eve! Check out our Advent and Christmas Schedule.
Thank you for supporting Immanuel Lutheran financially. Learn more at immanueljoplin.com/GIVE.
Martin Luther School is Joplin's Lutheran School, serving children from age 2 through 8th grade. Learn more and receive a FREE Educational Success Consultation! Call 417-624-1403.
---
Special thanks to all who helped to make this broadcast possible today:
Rev. Gregory Mech, DCE Jason Glaskey, organist Betty Lingenfelter, the COVID Committee and Board of Elders.
---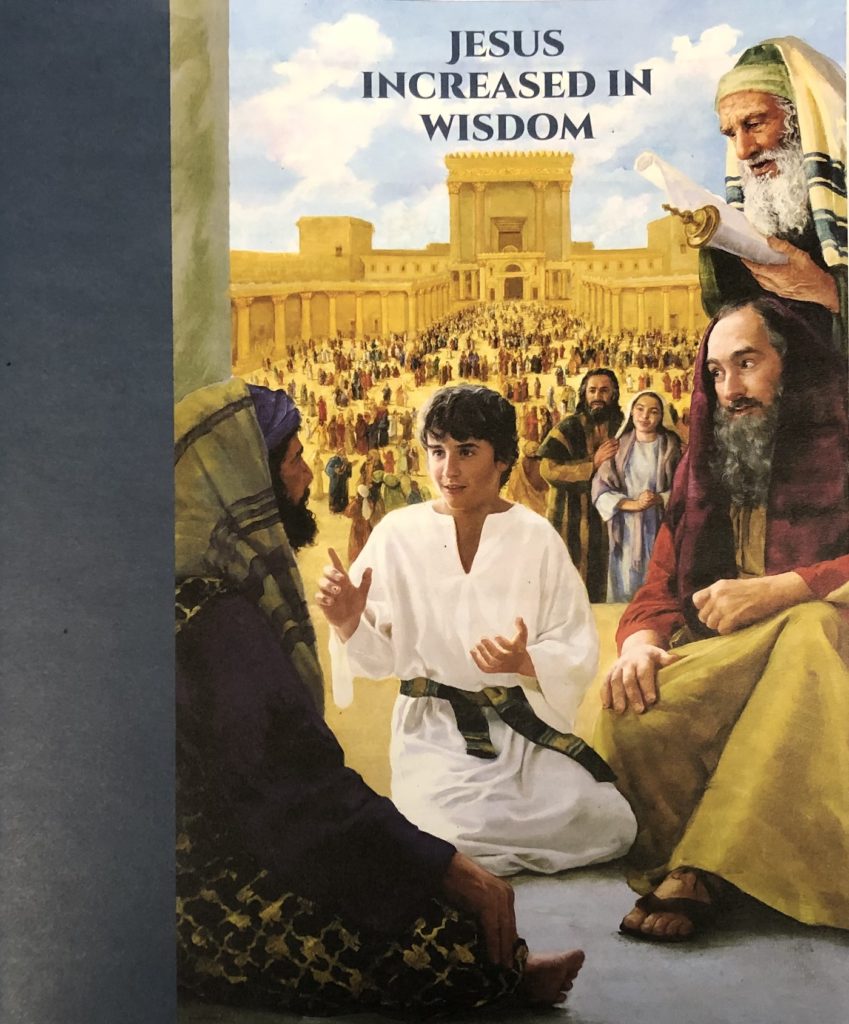 "And Jesus increased in wisdom and in stature and in favor with God and man."
A portion of the Holy Gospel from Luke 2, one of the readings assigned for the Second Sunday after Christmas. May God richly bless you as you hear His Word and grow in wisdom! Welcome to Immanuel Lutheran Church.
---
Second Sunday after Christmas
January 3, 2021 — Divine Service, Setting One with Holy Communion
INVOCATION, CONFESSION AND ABSOLUTION
In the name of the Father and of the Son and of the Holy Spirit.
Amen.
If we say we have no sin, we deceive ourselves, and the truth is not in us.
But if we confess our sins, God, who is faithful and just, will forgive our sins and cleanse us from all unrighteousness.
silence for reflection on God's Word and for self-examination.
Let us then confess our sins to God our Father.
Most merciful God, we confess that we are by nature sinful and unclean. We have sinned against You in thought, word, and deed, by what we have done and by what we have left undone. We have not loved You with our whole heart; we have not loved our neighbor as ourselves. We justly deserve Your present and eternal punishment. For the sake of Your Son, Jesus Christ, have mercy on us. Forgive us, renew us, and lead us, so that we may delight in Your will and walk in Your ways to the glory of Your holy name. Amen.
Almighty God in His mercy has given His Son to die for you and for His sake forgives you all your sins. As a called and ordained servant of Christ, and by His authority, I therefore forgive you all your sins in the name of the Father and of the Son and of the Holy Spirit.
Amen.
Psalm 119:97, 98, 104
Oh how I love your law!
It is my meditation all the day.
Your commandment makes me wiser than my enemies,
for it is ever with me.
Through your precepts I get understanding;
therefore I hate every false way.
♫ KYRIE
In peace let us pray to the Lord.
Lord, have mercy.
For the peace from above and for our salvation let us pray to the Lord.
Lord, have mercy. 
For the peace of the whole world, for the well-being of the Church of God, and for the unity of all let us pray to the Lord.
Lord, have mercy. 
For this holy house and for all who offer here their worship and praise let us pray to the Lord.
Lord, have mercy. 
Help, save, comfort, and defend us, gracious Lord.
Amen.
♫ HYMN OF PRAISE "Gloria in Excelsis"
Glory to God in the highest, and peace to His people on earth.
Lord God, heavenly king, almighty God and Father,
We worship You, we give You thanks, we praise You for Your glory.
Lord Jesus Christ, only Son of the Father, Lord God, Lamb of God,
You take away the sin of the world; have mercy on us.
You are seated at the right hand of the Father; receive our prayer.
For You alone are the Holy One, You alone are the Lord,
You alone are the Most High, Jesus Christ, with the Holy Spirit,
In the glory of God the Father. Amen.
SALUTATION and COLLECT OF THE DAY
The Lord be with you.
And also with you.
Let us pray: Almighty God, You have poured into our hearts the true Light of Your incarnate Word. Grant that this Light may shine forth in our lives; through the same Jesus Christ, Your Son, our Lord, who lives and reigns with You and the Holy Spirit, one God, now and forever.
Amen.
KIDS TALK
1 Kings 3:4-15
And the king went to Gibeon to sacrifice there, for that was the great high place. Solomon used to offer a thousand burnt offerings on that altar. At Gibeon the Lord appeared to Solomon in a dream by night, and God said, "Ask what I shall give you." And Solomon said, "You have shown great and steadfast love to your servant David my father, because he walked before you in faithfulness, in righteousness, and in uprightness of heart toward you. And you have kept for him this great and steadfast love and have given him a son to sit on his throne this day. And now, O Lord my God, you have made your servant king in place of David my father, although I am but a little child. I do not know how to go out or come in. And your servant is in the midst of your people whom you have chosen, a great people, too many to be numbered or counted for multitude. Give your servant therefore an understanding mind to govern your people, that I may discern between good and evil, for who is able to govern this your great people?"
It pleased the Lord that Solomon had asked this. And God said to him, "Because you have asked this, and have not asked for yourself long life or riches or the life of your enemies, but have asked for yourself understanding to discern what is right, behold, I now do according to your word. Behold, I give you a wise and discerning mind, so that none like you has been before you and none like you shall arise after you. I give you also what you have not asked, both riches and honor, so that no other king shall compare with you, all your days. And if you will walk in my ways, keeping my statutes and my commandments, as your father David walked, then I will lengthen your days."
And Solomon awoke, and behold, it was a dream. Then he came to Jerusalem and stood before the ark of the covenant of the Lord, and offered up burnt offerings and peace offerings, and made a feast for all his servants.
This is the Word of the Lord.
Thanks be to God.
Psalm 119:99-103
I have more understanding than all my teachers,
for your testimonies are my meditation.
I understand more than the aged,
for I keep your precepts.
I hold back my feet from every evil way,
in order to keep your word.
I do not turn aside from your rules,
for you have taught me.
How sweet are your words to my taste,
sweeter than honey to my mouth!
Ephesians 1:3-14
Blessed be the God and Father of our Lord Jesus Christ, who has blessed us in Christ with every spiritual blessing in the heavenly places, even as he chose us in him before the foundation of the world, that we should be holy and blameless before him. In love he predestined us for adoption to himself as sons through Jesus Christ, according to the purpose of his will, to the praise of his glorious grace, with which he has blessed us in the Beloved.
In him we have redemption through his blood, the forgiveness of our trespasses, according to the riches of his grace, which he lavished upon us, in all wisdom and insight making known to us the mystery of his will, according to his purpose, which he set forth in Christ as a plan for the fullness of time, to unite all things in him, things in heaven and things on earth.
In him we have obtained an inheritance, having been predestined according to the purpose of him who works all things according to the counsel of his will, so that we who were the first to hope in Christ might be to the praise of his glory. In him you also, when you heard the word of truth, the gospel of your salvation, and believed in him, were sealed with the promised Holy Spirit, who is the guaranteeof our inheritance until we acquire possession of it, to the praise of his glory.
This is the Word of the Lord.
Thanks be to God.
♫ ALLELUIA and VERSE
Alleluia. Lord, the whom shall we go? 
You have the words of eternal life. Alleluia, alleluia.  
Luke 2:40-52
The Holy Gospel according to St Luke, the second chapter.
Glory to You, O Lord.
And the child grew and became strong, filled with wisdom. And the favor of God was upon him.
Now his parents went to Jerusalem every year at the Feast of the Passover. And when he was twelve years old, they went up according to custom. And when the feast was ended, as they were returning, the boy Jesus stayed behind in Jerusalem. His parents did not know it, but supposing him to be in the group they went a day's journey, but then they began to search for him among their relatives and acquaintances, and when they did not find him, they returned to Jerusalem, searching for him.
After three days they found him in the temple, sitting among the teachers, listening to them and asking them questions. And all who heard him were amazed at his understanding and his answers. And when his parents saw him, they were astonished. And his mother said to him, "Son, why have you treated us so? Behold, your father and I have been searching for you in great distress." And he said to them, "Why were you looking for me? Did you not know that I must be in my Father's house?" And they did not understand the saying that he spoke to them. And he went down with them and came to Nazareth and was submissive to them. And his mother treasured up all these things in her heart.
And Jesus increased in wisdom and in stature and in favor with God and man.
This is the Gospel of the Lord.
Praise to You, O Christ.
♫ HYMN 391 (TLH) "Blest the Children of Our God"
Text – Joseph Humphreys (1720-?)
Tune – Voller Wunder – Johann Ebeling (1637-76)
Blest the children of our God,
They are bought with Christ's own blood;
They are ransomed from the grave,
Life eternal they shall have:
With them numbered may we be
Here and in eternity!
They are justified by grace,
They enjoy the Savior's peace;
All their sins are washed away,
They will stand in God's great day:
With them numbered may we be
Here and in eternity!
They are lights upon the earth,
Children of a heavenly birth;
One with God, with Jesus, one,
Glory is in them begun:
With them numbered may we be
Here and in eternity!
SERMON
NICENE CREED
I believe in one God, the Father Almighty, maker of heaven and earth and of all things visible and invisible.
And in one Lord Jesus Christ, the only-begotten Son of God, begotten of His Father before all worlds, God of God, Light of Light, very God of very God, begotten, not made, being of one substance with the Father, by whom all things were made; who for us men and for our salvation came down from heaven and was incarnate by the Holy Spirit of the virgin Mary and was made man; and was crucified also for us under Pontius Pilate. He suffered and was buried. And the third day He rose again according to the Scriptures and ascended into heaven and sits at the right hand of the Father. And He will come again with glory to judge both the living and the dead, whose kingdom will have no end.
And I believe in the Holy Spirit, the Lord and giver of life, who proceeds from the Father and the Son, who with the Father and the Son together is worshiped and glorified, who spoke by the prophets. And I believe in one holy Christian and apostolic Church, I acknowledge one Baptism for the remission of sins, and I look for the resurrection of the dead and the life of the world to come. Amen.
PRAYERS
LORD'S PRAYER
Our Father who art in heaven, hallowed be Thy name, Thy kingdom come, Thy will be done on earth as it is in heaven. Give us this day our daily bread; and forgive us our trespasses as we forgive those who trespass against us; and lead us not into temptation, but deliver us from evil. For Thine is the kingdom and the power and the glory forever and ever. Amen.
BENEDICTION
The Lord bless you and keep you.
The Lord make His face shine upon you and be gracious unto you.
The Lord look upon you with favor and give you peace.
Amen. 
Those not partaking of the Sacrament of the Lord's Table are dismissed with this blessing. Thank you for joining us before God's altar in fellowship today.
THE SERVICE OF THE SACRAMENT
THE WORDS OF OUR LORD
Our Lord Jesus Christ, on the night when He was betrayed, took bread, and when He had given thanks, He broke it and gave it to the disciples and said: "Take, eat; this is My body, which is given for you. This do in remembrance of Me."
In the same way also He took the cup after supper, and when He had given thanks, He gave it to them, saying: "Drink of it, all of you; this cup is the new testament in My blood, which is shed for you for the forgiveness of sins. This do, as often as you drink it, in remembrance of Me."
Distribution of the Sacrament will be by family groups, at the direction of the usher. Children may come forward for a contactless blessing. Once you have received the body and the blood of our Lord Christ, depart in peace.
♫ HYMN 765 "God Moves in a Mysterious Way" (1,4,5)
God moves in a mysterious way 
His wonders to perform;
He plants His footsteps in the sea 
And rides upon the storm.
Blind unbelief is sure to err 
And scan His work in vain;
God is His own interpreter, 
And He will make it plain. 
You fearful saints, fresh courage take; 
The clouds you so much dread
Are big with blessing and will break
In blessings on your head.
♫ HYMN 637 "Draw Near and Take the Body of the Lord"
Draw near and take the body of the Lord,
And drink His holy blood for you outpoured;
Offered was He for greatest and for least,
Himself the victim and Himself the priest.
He who His saints in this world rules and shields,
To all believers life eternal yields;
With heavenly bread He makes the hungry whole;
Gives living waters to the thirsting soul.
Come forward then with faithful hearts sincere,
And take the pledges of salvation here.
O Lord, our hearts with grateful thanks endow
As in this feast of love You bless us now.
♫ HYMN 397 "As with Gladness Men of Old"
As with gladness men of old 
Did the guiding star behold; 
As with joy they hailed its light, 
Leading onward, beaming bright,
So, most gracious Lord, may we 
Evermore be led by Thee.
As with joyful steps they sped, 
Savior, to Thy lowly bed,
There to bend the knee before 
Thee, whom heaven and earth adore;
So may we with willing feet 
Ever seek Thy mercy seat.
As they offered gifts most rare 
At Thy cradle, rude and bare,
So may we with holy joy, 
Pure and free from sin's alloy,
All our costliest treasures bring, 
Christ, to Thee, our heavenly King.
Holy Jesus, every day 
Keep us in the narrow way;
And when earthly things are past, 
Bring our ransomed souls at last
Where we need no star to guide, 
Where no clouds Thy glory hide.
In the heavenly country bright 
Need they no created light;
Thou its light, its hoy, its crown, 
Thou its sun which goes not down;
There forever may we sing 
Alleluias to our King.
A Prayer of Thanksgiving after Receiving the Sacrament
Almighty and everlasting God, I thank and praise You for feeding me the life-giving body and blood of Your beloved Son, Jesus Christ. Send Your Holy Spirit that, having with my mouth received the holy Sacrament, I may by faith obtain and eternally enjoy Your divine grace, the forgiveness of sins, unity with Christ, and life eternal; through Jesus Christ, my Lord. Amen.
---
Scripture quotations are from The Holy Bible, English Standard Version, copyright © 2001 by Crossway Bibles, a division of Good News Publishers. Used by permission. All rights reserved. Created by Lutheran Service Builder © 2006 Concordia Publishing House.
Learn More