Service for the Third Sunday in Advent
Rev. Gregory Mech, pastor | December 12, 2021 | Advent 3 | Immanuel Lutheran Church – Joplin, Missouri | 8:00 or 10:30 am
We stream our worship services, and hope you will join our online community if you are unable to attend in person. Welcome! immanueljoplin.com/LIVE
Face Masks Encouraged | We hope to see you back for an In-Person Service! Learn more at immanueljoplin.com/COVID
Thank you for supporting Immanuel Lutheran financially. Use our Givelify app! Learn more at immanueljoplin.com/GIVE.
Martin Luther School is Joplin's Lutheran School, serving children from age 2 through 8th grade. Learn more and receive a FREE Educational Success Consultation! Call 417-624-1403.
---
Special thanks to all who helped to make this broadcast possible today:
Rev. Gregory Mech, DCE Jason Glaskey, organist Betty Lingenfelter, Altar Guild, Board of Elders, and all of our volunteers! Join us this Wednesday for "Christmas Lights," our Advent Midweek Service! immanueljoplin.com/ADVENT
---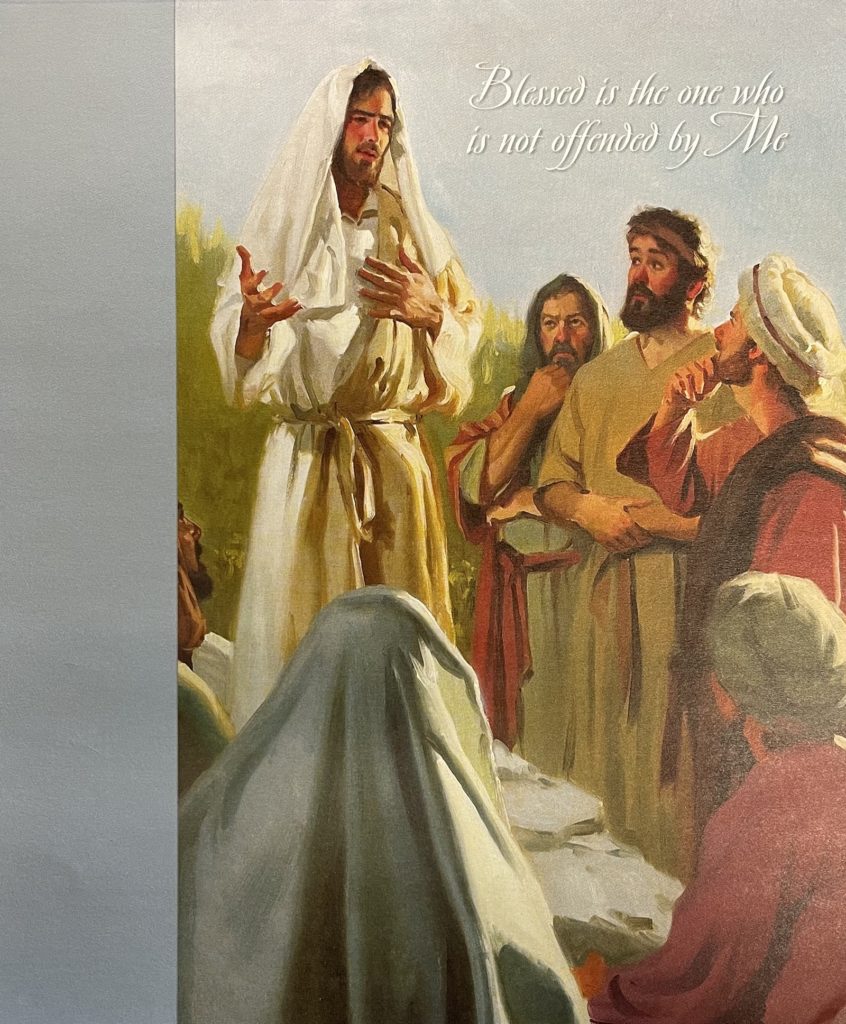 Lord Jesus Christ… Lighten the darkness of our hearts by Your gracious visitation.
Advent 3 — Welcome to Immanuel Lutheran Church LCMS in Joplin, Missouri! May you be fed by God's life-giving Word as you join us in person or online. Please let us know how we can serve you, pray for you, or answer any questions you may have. immanueljoplin.com/CONTACT
---
Advent 3 — HOLY GOSPEL Luke 7:18-35
The Holy Gospel according to St. Luke, the seventh chapter.
Glory be to Thee, O Lord.
The disciples of John reported all these things to him. And John, calling two of his disciples to him, sent them to the Lord, saying, "Are you the one who is to come, or shall we look for another?" And when the men had come to him, they said, "John the Baptist has sent us to you, saying, 'Are you the one who is to come, or shall we look for another?'" In that hour he healed many people of diseases and plagues and evil spirits, and on many who were blind he bestowed sight. And he answered them, "Go and tell John what you have seen and heard: the blind receive their sight, the lame walk, lepersare cleansed, and the deaf hear, the dead are raised up, the poor have good news preached to them. And blessed is the one who is not offended by me."
When John's messengers had gone, Jesus began to speak to the crowds concerning John: "What did you go out into the wilderness to see? A reed shaken by the wind? What then did you go out to see? A man dressed in soft clothing? Behold, those who are dressed in splendid clothing and live in luxury are in kings' courts. What then did you go out to see? A prophet? Yes, I tell you, and more than a prophet. 
This is he of whom it is written, "'Behold, I send my messenger before your face, who will prepare your way before you.' I tell you, among those born of women none is greater than John. Yet the one who is least in the kingdom of God is greater than he." (When all the people heard this, and the tax collectors too, they declared God just, having been baptized with the baptism of John, but the Pharisees and the lawyers rejected the purpose of God for themselves, not having been baptized by him.)
"To what then shall I compare the people of this generation, and what are they like? They are like children sitting in the marketplace and calling to one another,
"'We played the flute for you, and you did not dance;
we sang a dirge, and you did not weep.'
For John the Baptist has come eating no bread and drinking no wine, and you say, 'He has a demon.' The Son of Man has come eating and drinking, and you say, 'Look at him! A glutton and a drunkard, a friend of tax collectors and sinners!' Yet wisdom is justified by all her children."
This is the Gospel of the Lord.
Praise be to Thee, O Christ.
Learn More