Little Things
Daily Devotion for Holy Week | Wednesday, April 17
And the Lord turned and looked at Peter. And Peter remembered …

Luke 22:61
It was the little things that caught Peter. A servant girl making conversation at the front gate— "You're not one of these disciples too, are you?" she asks, possibly with a look at John, who had just talked her into letting Peter in. Another question from someone else a little later. A remark about his accent. The crow of a rooster.
It doesn't take much to trip me up as a follower of Jesus. An overheard remark, and instantly anger, jealousy or fear spring up in my heart. An overlooked duty comes to mind, and immediately I think, "Oh, that phone call can wait another day—I can do that chore tomorrow." A promise I've made to someone else, and I think, "Oh, I can bend that a little bit—they won't mind, or even notice it."
No amount of willpower can fix these problems. Even if I could force myself to go through all the right motions, the basic problem would still be there, in my heart. I don't need a life coach. I don't need a scolder or a cheerleader. I need a Savior—just as Peter did, just as you do.
It was a little thing that turned Peter around, too. Luke tells us, "And the Lord turned and looked at Peter. And Peter remembered the saying of the Lord, how He had said to him, 'Before the rooster crows today, you will deny Me three times.' And he went out and wept bitterly" (Luke 22:61-62).
What was in that look? Sadness, no doubt—but also love and forgiveness. Nothing else could melt that hardened, fearful heart. Nothing else can melt my heart when I've fallen into sin. But Jesus' love for us—oh yes, that will do it. Because He is the one who suffered, died, and rose again for our sakes. Because we are worth it to Him—because He loves us. And that's no small thing.
THE PRAYER
Lord, look on me with Your mercy. Amen.
REFLECTION QUESTIONS
What are some of the little things that trip you up in your Christian life
What are some of the little things God uses to bring you back closer to Him?
If you are willing, tell about a time when God's love made a difference in a difficult time in your life.
Brought to you in partnership with Lutheran Hour Ministries – lhm.org/lent
Learn More
About These Devos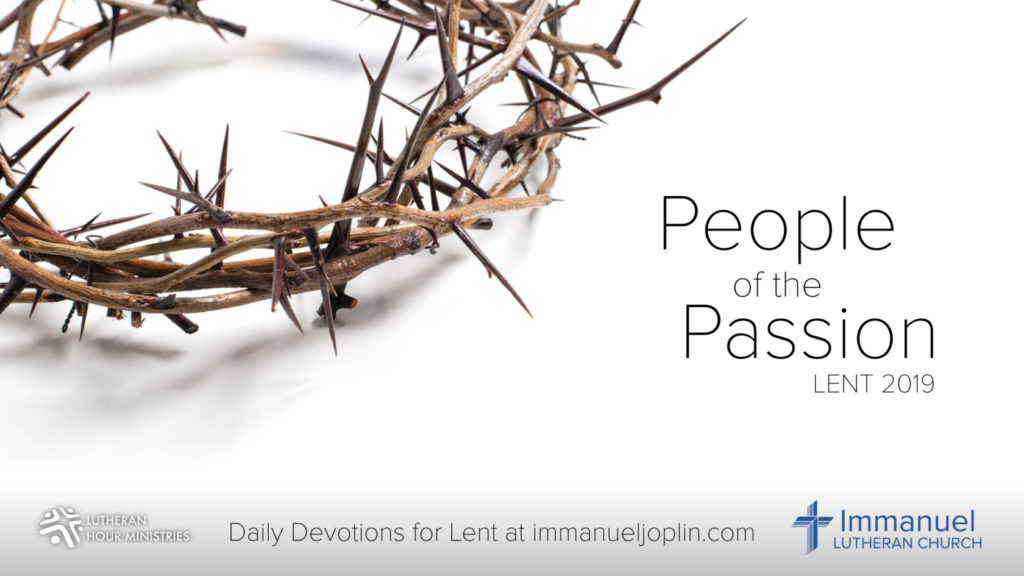 PEOPLE OF THE PASSION Lenten Devotions 2019
Centuries before Christ, God was preparing the way for His Son's arrival. From mankind's original sin through the children of Israel's on-again, off-again obedience, God was faithful, honoring His promise to Eve (Genesis 3:15), which first pointed to Jesus. In People of the Passion, we see God working through the lives of ordinary people to achieve His ultimate aim: our salvation. There are prophets, priests, and kings, servants, soldiers, and civilians—each with a role in the high drama of Christ's passion. Readers may see themselves in some of these people—ordinary individuals who, like us, need a Savior.
Lutheran Hour Ministries (LHM) is a Christian outreach ministry supporting churches worldwide in its mission of Bringing Christ to the Nations—and the Nations to the Church.