People Of The Passion
Daily Devotions for Lent | Coming March 6
Immanuel Lutheran Church in Joplin, Missouri is here to share Good News with you. Easter is coming, and it's all about Jesus—the Savior of the world. Remembering His journey of love and suffering to pay the penalty for our sins at the cross, prepare your heart with us with daily devotions for you and your family, beginning on March 6.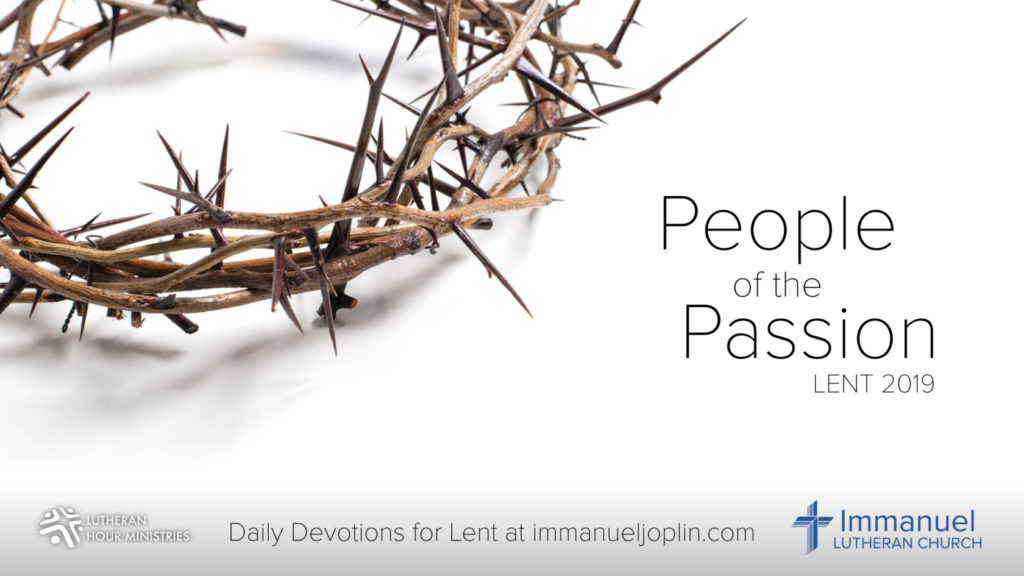 Each day's Lenten Devotion will include:

a short Scripture reading
a devotional thought
a prayer
reflection questions
We invite you to join us weekly in March and April for Lent-themed worship services on Wednesday nights. A free family meal will be served beginning at 5:15 with a choice of services before and after at 4:00 and 7:00pm.
Advent Devotions are brought to you in partnership with Lutheran Hour Ministries.
Learn More

About These Devos

PEOPLE OF THE PASSION Lenten Devotions 2019
Centuries before Christ, God was preparing the way for His Son's arrival. From mankind's original sin through the children of Israel's on-again, off-again obedience, God was faithful, honoring His promise to Eve (Genesis 3:15), which first pointed to Jesus. In People of the Passion, we see God working through the lives of ordinary people to achieve His ultimate aim: our salvation. There are prophets, priests, and kings, servants, soldiers, and civilians—each with a role in the high drama of Christ's passion. Readers may see themselves in some of these people—ordinary individuals who, like us, need a Savior.
Lutheran Hour Ministries (LHM) is a Christian outreach ministry supporting churches worldwide in its mission of Bringing Christ to the Nations—and the Nations to the Church.