Galatians Bible Class
Sunday Morning Fellowship Bible Study with Pastor Mech in the Fellowship Hall | 9:20 to 10:15 am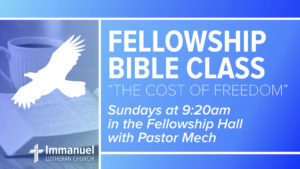 Pastor Gregory Mech's Sunday Morning Bible Class continues with a brand-new topic. Meeting in the comfort of the Church Fellowship Hall, all adults are welcome to pour a cup of coffee, pull up a chair, open a Bible, and join in the conversation. The group of up to 50 participants is diverse in age and Bible knowledge. Whether you choose to just sit and listen or ask a question and venture a comment, you'll be glad you came. All are welcome.
"The Cost of Freedom" explores many interesting topics, including:
False Teachers
Conflict Resolution
Confrontations
Prison
Law and Gospel
God's Word For Today
ABOUT THIS STUDY
"Which would you prefer – slavery or freedom?" If asked this question, most people would undoubtedly respond, "Freedom." Unfortunately, many people today equate freedom with "personal choice" or "do your own thing" without regard for God's Word. With Christian freedom comes responsibility – to God and for others.
God continues to speak to us through Galatians concerning
the freedom from sin and death Christ won for us on the cross;
how our slavery to Christ provides us true freedom;
ways we can live as people whom Christ has freed from the curse of the Law through the power of the Gospel.
"Galatians: The Cost of Freedom," is based on the book of the same name, written by author Thomas Doyle, published by Concordia Publishing House.
Questions? Call Pastor Mech at the church office (417-624-0333). Join us!
Learn more