400+ pairs Gathered So Far
Youth Shoe Drive | Collecting Now Through November
Immanuel Lutheran Church Youth have been collecting gently-worn, used and new shoes since early October. These shoes are being bundled to be sent overseas to help families in underdeveloped countries.
Our young people are motivated! They have been searching closets at home and spreading the word. A couple of enterprising youth have been going throughout their neighborhood, asking for shoes left over from local yard sales. To date, Immanuel Youth have collected and bundled more than 400 pairs, but the goal is much higher. By the end of November, we hope to have gathered 2500 pairs of shoes for those who really need them.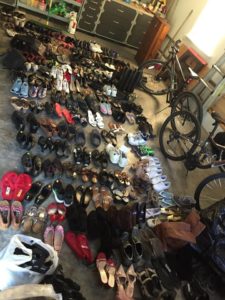 You are invited to be a part of the Immanuel Youth Shoe Drive! Please look through your own closets for shoes of any season, size or style. If they are collecting dust, donate them to us. Talk to your family members and tell your friends. How many shoes could you gather for the shoe drive? 5 pairs? 10 pairs? 20 or more?
There is a collection bin just inside the church building, and we are accepting donations anytime between now and Thanksgiving. Bring your shoes to Immanuel Lutheran Church and Martin Luther School, located at 26th and Connecticut Ave in Joplin. Our youth thank you for your help!
Learn more