Sponge and Stick and Sour Wine
Daily Devotion for Lent | Friday, March 23, 2018
Read John 19:28-30.
A jar full of sour wine stood there, so they put a sponge full of the sour wine on a hyssop branch and held it to His mouth. (John 19:29)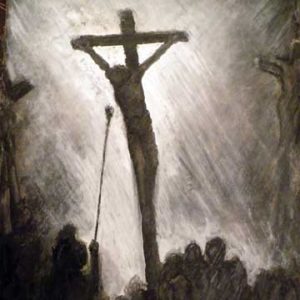 Just before Jesus' final moments, He said, "I'm thirsty." Someone took a sponge and filled it with the sour wine the soldiers brought to drink. Then they put it on a stick and held it up to Jesus' mouth—a small act of kindness on a dark and bitter day.
What strikes me most about this story is Jesus' extreme helplessness. A sponge and stick. He couldn't get Himself a drink—couldn't hold a cup or do anything at all, really, except open His mouth. All four limbs were nailed to the cross. All He could do was ask.
Maybe this shouldn't strike me as surprising. We go through times like this in our lives too— though usually as a result of sickness or disability. A stroke, abdominal surgery, even minor things as losing our voice or having our eyes swell shut from an allergy—and suddenly, we are helpless. We need others to do for us what we cannot do.
It's no surprise, then, that God in the flesh should experience what we do.
He knew disability, helplessness, and humiliation. He who had helped so many others could now not help Himself. For us, it would have been a bitter pill to swallow. For Him?
It cannot have been easy. He is, after all, true man as well as true God. Jesus did not "cheat" when it came to being a human being. He knows our griefs because He has shared them. He shared them in His suffering and death.
And yet, now that Jesus has risen from the dead, He shares one more thing with us: His own eternal, rejoicing, abundant, everlasting life, full of joy, and power. He has had mercy on us, just like that unknown man at the cross showed Him mercy. He has given us to drink of His own everlasting life—partaking of His own body and blood.
Now, even though we are still helpless in many ways, we rejoice. The Holy Spirit has given us faith in Jesus, and we are God's children now and forever.
THE PRAYER: Lord, You know my own disabilities and weaknesses. Help me to lean on You for everything I need. Amen.
Brought to you in partnership with Lutheran Hour Ministries – lhm.org/lent
Learn More
About These Devos
SILENT WITNESSES Lenten Devotions 2018
For Christians, the season of Lent is marked by deep reflection on the appearance of the Savior and, naturally, what His life, suffering, death, and resurrection mean for our lives now. God's human involvement in our world is a perfect example of His intimate love for us. He spared nothing to make Himself known to us—a fact that proclaims in no uncertain terms how "God so loved the world." In Silent Witnesses, readers will note both the majestic—and mundane—aspects of the Gospel accounts: stories telling how God in His infinite power came down and "has spoken to us by His Son."
Lutheran Hour Ministries (LHM) is a Christian outreach ministry supporting churches worldwide in its mission of Bringing Christ to the Nations—and the Nations to the Church.