Welcome to God's Wonder Lab VBS!
July 24-28, 2022 — 5:30 to 8:00 pm (free meal)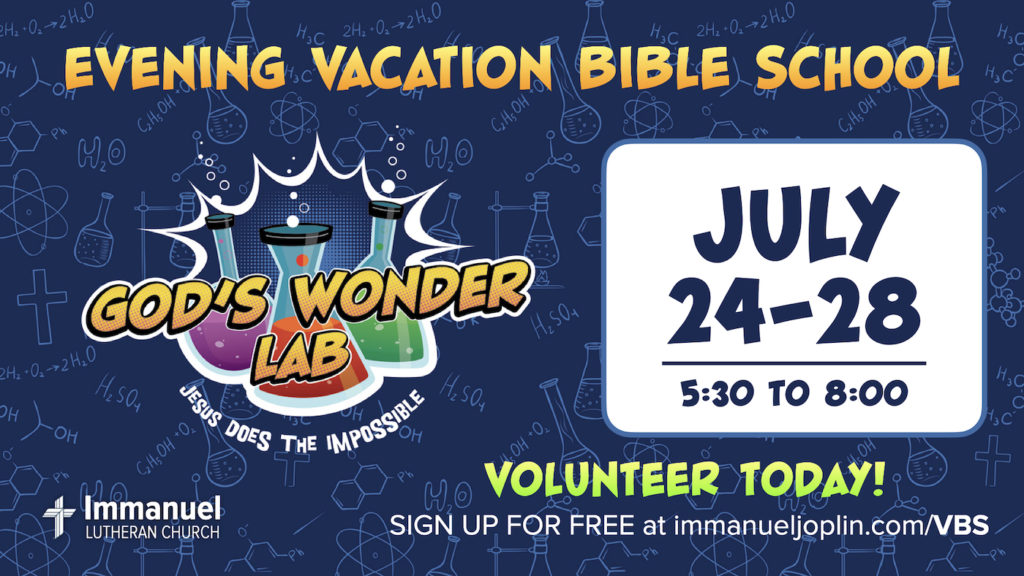 An Evening Vacation Bible School Your Whole Family Can Attend!
By design, Vacation Bible School is DIFFERENT this year! Moving from mornings to evenings this Summer, we hope to see EVERYONE from our extended church and school family at God's Wonder Lab to hear His Good News!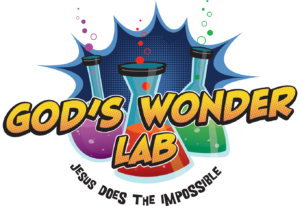 Our God can make the impossible possible!
He does marvelous things! A science lab conducts experiments that explain how things are possible. In Jesus' ministry, He did things that are impossible. His greatest miracle of all was dying on the cross and rising from the dead for our salvation. At God's Wonder Lab, discover that Jesus does the impossible for us.
"God's Wonder Lab" — 2022 Vacation Bible School Details
Thank you for bringing your child to God's Wonder Lab Vacation Bible School, where Jesus does the impossible!
Designed for families with children (toddlers through middle school)
July 24-28, Five evenings Sunday thru Thursday
5:30 FREE easy meal
6:00 Opening together
6:30-8:00 site rotation Bible Challenge, Crafts, Games
Leave by 8:00 each night
A great way for our congregation, school and community to come together!
He has done marvelous things! - Psalm 98:1
What is God's Wonder Lab VBS? At God's Wonder Lab VBS, children will learn that Jesus does the impossible! They'll look into the Bible, God's Holy Word, and explore five Bible accounts where God points us to our Savior, His Son, Jesus. He has done marvelous things!
Take-Home Point. Each lesson, we'll share a Take-Home Point. Repeat this with your child often so you all remember God's marvelous works!
Bible Story. Read the story with your kids. The student leaflets have a picture of the lesson's Bible story and where to find the account in the Bible. Read and talk about it with your child. God's Holy Word will make lasting impressions on the hearts and lives of your family.
Bible Memory Verse. Your children will explore, learn, and remember each lesson's Bible Memory Verse from God's Holy Word at the Bible Challenge site! Say the verse together often. Sing the verses and watch the videos!
Closing Celebration. Your child will want to tell you all about God's Wonder Lab VBS, so plan on attending the Closing Celebration.
Mission Project. As part of God's Wonder Lab VBS, we share God's blessings with other young people in our community. Information about this project is attached.
God is with us and blesses us with His miraculous love through Jesus, our Savior.

Help us to provide a home for the homeless young women in our community!
VBS Mission Project 2022: LovinGrace works with young women (17-24) who have aged out of foster care, are homeless, whose families are in crisis, or who have limited support systems to obtain the skills and education they need to live a productive life on their own. Our 2022 VBS mission offering will help LoveinGrace to share Jesus' love and care!
Join us nightly ONLINE! VBS openings and closings will be broadcast live at 6:00 pm each night! Find the stream on Immanuel's Facebook or YouTube channels.
SIGN UP HERE FOR VBS!
Learn More