Wednesdays in Advent — Worship together at an "Advent Montage: Past, Present, Future" Advent Service!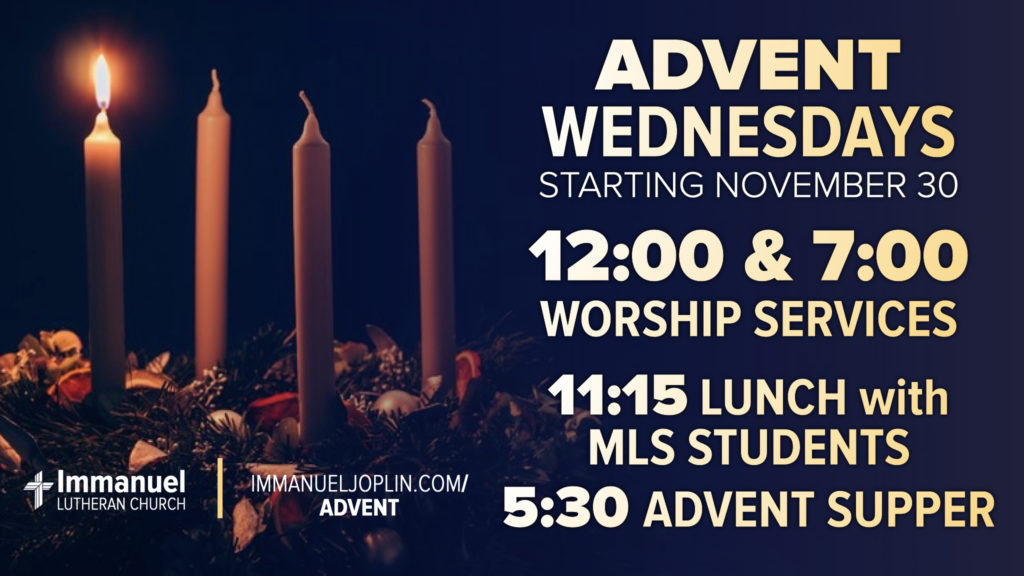 Join us each Wednesday until Christmas for a special weekly Advent Worship Service. Advent is a four-week season of preparation and anticipation as we get ready for Christmas, the celebration of the birth of Jesus, our Coming King and Savior!
Midweek Worship Services at 12:00 noon and 7:00 pm are held after Thanksgiving each Wednesday evening between November 30 and December 21. Enjoy a thoughtful, grace-filled worship service together with those gathered. Free family meals will be served before each service too. Come as you are — straight from work or school. Relax, pray, eat, laugh and share with friends and family. Come, feed your body and soul at Immanuel Lutheran Church during Advent. Prepare your heart for the true meaning of Christmas—Jesus!
Advent Montage Sermon Series
CHRIST: Past, Present, Future
This year's Advent Series with Pastor Marler explores how Jesus Christ always promises to come and be with His people. Before His birth in Bethlehem, God's people trusted in the Old Testament prophecies and promises of who the Messiah would be. During Jesus' time on earth, He walked among us as "The Word become flesh," a real human being living and dying perfectly to save mankind from sin. In these days after Christ's resurrection and ascension, Jesus continues to come to us through Word and Sacrament, feeding His people and reminding us of the promise of the great Second Advent, when Christ will raise us up to live with Him in heaven forever.
Join us at Immanuel as we explore these themes each week together. May the promise of Christ's coming fill you with hope and joy during Advent and Christmas!
Midweek 1 — November 30 — "The Past, Christ Has Come, the Story is Written!"
Midweek 2 – December 7 — "The Present, Christ Still Comes, the Story Continues!"
Midweek 3 — December 14 — Martin Luther School Christmas Service
Midweek 4 — December 21 — "The Future, Christ is Coming Back, the Story to be Continued!"
Christmas Eve – December 24
Christmas Day – December 25
---
Learn More