A Courteous God and a Willing Response
Daily Devotion for Advent 2019 | Friday, December 13
And Mary said, "Behold, I am the servant of the Lord; let it be to me according to your word." And the angel departed from her.

Luke 1:38
If you stop to think about it, God didn't have to tell Mary what He was going to do. He didn't have to explain anything at all. Oh, no doubt Mary would have been surprised and frightened to find herself pregnant with no explanation of how it happened—but after all, Mary is a human being, and she has to do what God wants. Right?
And yet—that is not the kind of God we have, one who runs roughshod over us, caring about nothing but His own power and glory. One of the old Greek gods would have behaved like that—if they were real. But not this God, not the true God. He asks first.
Why? Because this is God's nature—to be gentle, to show mercy, to treat even the least of His creatures as incredibly valuable. Mary has a high value in God's eyes. You have a high value in God's eyes. God will not treat you carelessly. He loves you. That is why He sent His Son Jesus to rescue you!
God has done everything. Jesus was born among us. He lived and served and taught and healed—and then He lay down His life for us on the cross, to make us God's own. He rose from the dead. And now He offers us eternal life, a free gift to everyone who will believe in Him.
God will not force our hands. Instead, He offers Himself to us. And through the power of the Holy Spirit, we say willingly, "Yes, Lord. I am Yours."
Dear Father, give me Your Spirit's help to respond to You with joy and gladness. Amen.
Reflect & Discuss
What rules of courtesy and good manners did your family teach you? 
How do you think courtesy is related to love?
When has God treated you with loving courtesy in your life?
Brought to you in partnership with Lutheran Hour Ministries – lhm.org/advent
Learn More
About These Devos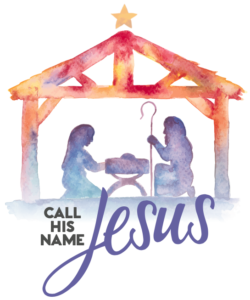 CALL HIS NAME JESUS Advent Devotions 2019
Foretold by the prophets and announced by angels, Jesus' birth is the fulfillment of divine promises. The events of Christmas have God's fingerprints all over them. At just the right time, He brought His Son into this world to redeem us. In Call His Name Jesus, we see how God is ever-present in our lives—so much so that His Son became one of us to bring us back to Himself.
Lutheran Hour Ministries (LHM) is a Christian outreach ministry supporting churches worldwide in its mission of Bringing Christ to the Nations—and the Nations to the Church.