First Week Yields Generous Results
Raising $15,000 for a new Lutheran Church Charities Comfort Dog is a challenging task. As Immanuel Lutheran Church and Martin Luther School began the Next Comfort Dog for Joplin campaign in the first week of October, hopes were high that people would learn of the need and respond. Just one week into the campaign, the team has already raised half of the money necessary for a new Comfort Dog. Applying for Joplin's next Comfort Dog will allow Immanuel-Joplin to commit to at least ten more years of serving those who are suffering and in need in the Four States area.
Thank You for Bringing Us Half Way To Our Goal!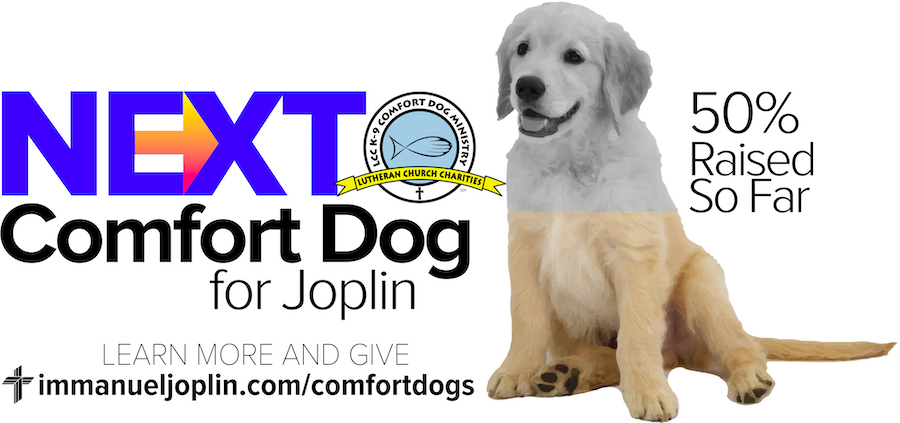 GOAL: $15,000
RECEIVED: $8705 as of 10/6/2019
NEEDED: $6205
Why So Expensive?
A comment left on Louie Comfort Dog's Facebook Page recently declared: "I don't understand why it costs so much to raise a puppy." The question behind that statement—"Why are LCC Comfort Dogs so expensive?"—is a valid one that deserves an explanation. Louie and his team answered in this way:
Lutheran Church Charities Comfort Dogs receive a full year and more of daily training at the Comfort Dog School near Chicago. Unlike service dogs or therapy dogs, LCC Comfort Dogs are trained to be handled by several different certified handlers from their local team. (It takes an extra special dog to be able to work with more than one or two handlers to the standard we are able to achieve.)

The humans on the team of up to six handlers plus the ministry helpers also receive the full support, training and expertise of LCC for the lifetime of the dog. Our team is training in listening and caring skills, dog handling skills and more, learning how to use the Comfort Dog's gifts in a variety of places and situations; from tornado-ravaged neighborhoods, to noisy city streets, to chaotic hospital waiting rooms, to classrooms full of wiggly preschoolers, to cramped airline aisles, to formal and confidential courtrooms, and so much more.

$15,000 gets an expertly-trained animal PLUS a whole team of volunteers prepared to make an impact serving a community for the next 10+ years. The Lutheran Church Charities Comfort Dog Ministry is SO MUCH more than a dog with manners. I'm so glad you asked.

From Louie Comfort Dog's Facebook Page, October 2019.
As Louie Comfort Dog enters his senior years, and with the ministry's recent loss of Jackson Comfort Dog, Louie needs help. To continue this important work, Immanuel Lutheran Church has decided to move forward with the Next Comfort Dog for Joplin campaign.
Over the next two months, Immanuel Lutheran Church and Martin Luther School in Joplin hope to raise $15,000 to cover the cost of a new, specially-trained Comfort Dog puppy from Illinois-based Lutheran Church Charities.
Comfort Dogs like Louie are Golden Retrievers, chosen as puppies to receive more than a year of specialized training at LCC's Comfort Dog school. These very special pups learn to be a calming influence for people in hospitals, nursing care facilities, school classrooms and community events. Joplin's Comfort Dog Team also responds with compassion following disasters in our immediate area and all around the United States, helping people traumatized by natural disasters, accidents, and acts of violence.
Your Help Is Needed.
At nine years old, Louie Comfort Dog continues to faithfully serve, but Louie needs help. If you would like to help Louie Comfort Dog and his team to purchase the Next Comfort Dog for Joplin, tax-deductible donations are being received online through Givelify or through the mail by check.
The Joplin Comfort Dog Team is operated by volunteers and funded by donations. We never ever charge the people we serve. 100% of donations received go toward the Joplin Comfort Dog work that we are called to do.
Give Now Online or Mail a Tax-Deductible Donation to...
Immanuel Comfort Dogs
2616 Connecticut Ave
Joplin, MO 64804
Thank you for supporting the Comfort Dog Ministry of Immanuel Lutheran Church and Martin Luther School in Joplin, as we bring the mercy, compassion, presence and proclamation of Jesus Christ to those hurting and in need in our community and beyond.
Learn More