Doing His Job
Daily Devotion for Lent | Wednesday, March 20
His master said to him, 'Well done, good and faithful servant."

Matthew 25:21
It was an odd thing for Jesus to say: "Look for a man carrying a jar of water." This was Judea; men didn't normally carry water, that was a woman's job. The disciples must have wondered. Still, they were used to Jesus by then; they did it without arguing.
I also wonder about the man carrying the water. How did he end up there doing such an odd job? Perhaps his master had made an arrangement ahead of time with Jesus to get the disciples safely and secretly to his house: "Look for one of my man-servants carrying a water jar and follow him home," he might have said.
Or maybe there was no arrangement at all, and Jesus simply knew the future and used it. "Go," He says, and it happens that day that a brother helps out his sisters who are busy cooking, or a strong son decides to tote water for his elderly mother. However it happened, it was effective. The man fetched the water, the disciples spotted him, and they got to the right house to prepare the Passover feast.
One thing is clear, though. The man with the water jar was doing his job, however odd or embarrassing it might have been to him. And because he was doing his job faithfully, Jesus' plan worked out perfectly. The disciples made it to the safe house, got things ready, and Jesus and His followers had one last dinner in peace before His betrayal, arrest, and crucifixion.
We have the chance to be faithful in the little things of our life, too. Taking out the trash, getting gas for the car, replacing the toilet paper when it runs out—these are such tiny acts of service, we don't usually think about them (unless they go undone, of course!). Yet they can make a huge difference when Jesus uses them in His service. This is the way He honors us, giving us a part to play in His plans—a role that involves faithful service, even when it seems tedious or embarrassing. He who served us at the cost of His own life now allows us to serve others—and Him.
THE PRAYER
Dear Father, thank You for the many people who serve You faithfully and are a blessing in my life. Amen.
REFLECTION QUESTIONS
When have you done something that was unexpected for your age, gender, or other social classification?
Think of someone you know. What small acts of faithfulness do they do that you notice?
What is an area of your life where you want to ask God to help you serve faithfully?
Brought to you in partnership with Lutheran Hour Ministries – lhm.org/lent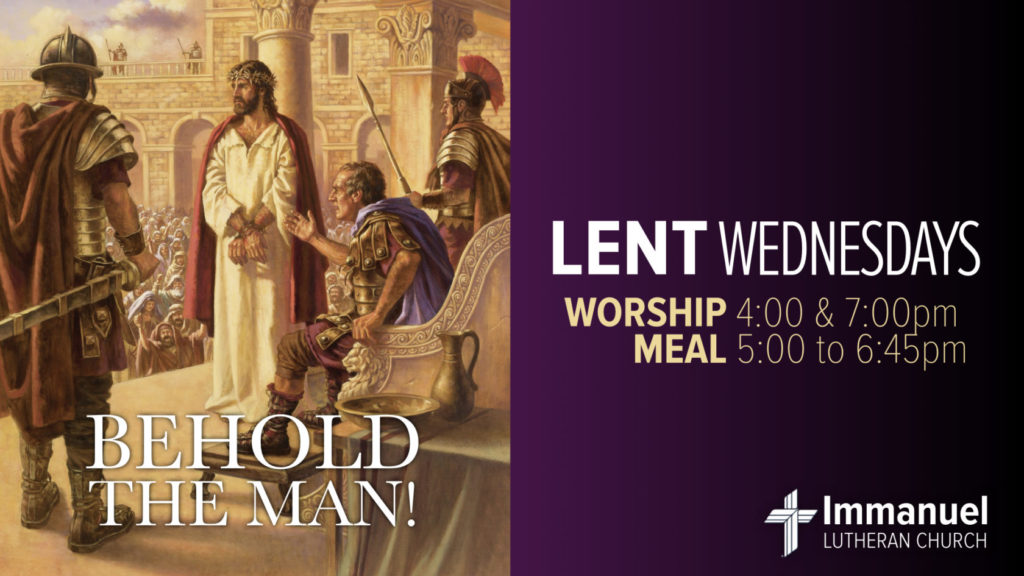 Learn More
About These Devos
PEOPLE OF THE PASSION Lenten Devotions 2019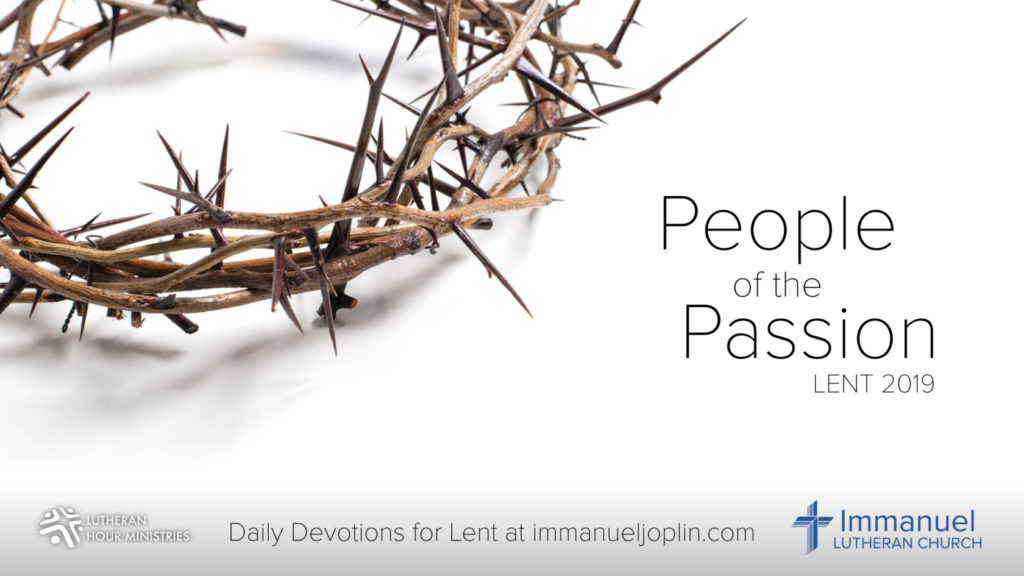 Centuries before Christ, God was preparing the way for His Son's arrival. From mankind's original sin through the children of Israel's on-again, off-again obedience, God was faithful, honoring His promise to Eve (Genesis 3:15), which first pointed to Jesus. In People of the Passion, we see God working through the lives of ordinary people to achieve His ultimate aim: our salvation. There are prophets, priests, and kings, servants, soldiers, and civilians—each with a role in the high drama of Christ's passion. Readers may see themselves in some of these people—ordinary individuals who, like us, need a Savior.
Lutheran Hour Ministries (LHM) is a Christian outreach ministry supporting churches worldwide in its mission of Bringing Christ to the Nations—and the Nations to the Church.