Fearing The future
Daily Devotion for Advent | Thursday, December 20, 2018
But as he considered these things, behold, an angel of the Lord appeared to him in a dream, saying, "Joseph, son of David, do not fear to take Mary as your wife, for that which is conceived in her is from the Holy Spirit. She will bear a Son, and you shall call His Name Jesus, for He will save His people from their sins." All this took place to fulfill what the Lord had spoken by the prophet: "Behold, the virgin shall conceive and bear a Son, and they shall call His Name Immanuel" (which means, God with us).

Matthew 1:20-23
What if? What if I lose my job and I can't make the house payment? What if my husband gets cancer? What if I fail the test? All you have to say is "What if?" and my mind is off and running, constructing elaborate nightmares of all the bad things that might happen, could happen, if only …
Joseph probably went through some of this after the angel told him to take Mary home as his wife. What if I do marry her—will people blame me for the too-early pregnancy? Will the gossip in the village hurt my wife, my family, our business? Will the baby even love me, since I'm not His real dad? And how in the world could I possibly help raise the Son of God?
But to all of this, the angel says simply, "Fear not." Don't be afraid to take Mary as your wife. God's hand is in this situation. God knows the answer to all your questions, and He is in control. When you need to know something, He will let you know. In the meantime, just trust Him. It will be okay.
God says that to us, too, when we are afraid of the future. "I am with you always," He says (Matthew 28:20). "Fear not, for I am with you; be not dismayed, for I am your God; I will strengthen you, I will help you, I will uphold you with My righteous right hand" (Isaiah 41:10). "Even to your old age I am He, and to gray hairs I will carry you. I have made, and I will bear; I will carry and will save" (Isaiah 46:4). When we are afraid, we can turn to Jesus, our Immanuel, God-with-us. He will never fail us.
THE PRAYER
Lord, when I fear the future, draw me close to You and help me to trust in You. Amen.
REFLECTION QUESTIONS
When you were little, what did you imagine your life would be like someday?
How is your life different than what you imagined as a child? Is it better or worse, and why?
When you look to the future, what concerns you? How do you keep your faith strong in God?
Brought to you in partnership with Lutheran Hour Ministries – lhm.org/advent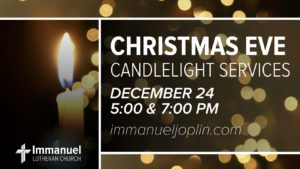 Learn More
About These Devos
THE COMING KING Advent Devotions 2018
The coming Savior's birth was foretold by the prophets of old and later experienced by many who were on hand as He came into this world. Mary and Joseph, Zechariah and Elizabeth, Simeon, shepherds, wise men from the east, a legion of angels, and even King Herod—all play their parts in the Gospel narratives that speak of the Savior's incarnation. Explore the many ways their lives were touched as God became one of us, for each of us, in The Coming King.
Lutheran Hour Ministries (LHM) is a Christian outreach ministry supporting churches worldwide in its mission of Bringing Christ to the Nations—and the Nations to the Church.