Don't you Know Me?
Daily Devotion for Advent | Sunday, December 23, 2018
And while they were there, the time came for her to give birth. And she gave birth to her firstborn Son and wrapped Him in swaddling cloths and laid Him in a manger …


Luke 2:6-7
If you have children, do you remember the first time you were completely responsible for them, with no doctors or nurses or grandparents around? I remember walking up the steps to our house with my newborn son in my arms thinking, "Where are the grown-ups? Who's going to take care of this baby?" It didn't seem right that somebody—God?—had trusted me to keep safe a tiny scrap of a human being not three days old. Didn't God know me? Caring for a dog was about as far as I'd gone before!
But for Mary and Joseph, it must have been worse. This was God's own Son. How could two sinful people raise the holy Son of God? No doubt they felt totally inadequate. After all, didn't God know them? How could He trust His Son to them?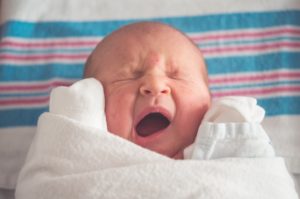 However they felt, they had to go forward. Joseph made his new family as comfortable as possible under the circumstances, and no doubt he arranged food and looked for better housing. Mary unpacked the baby things and wrapped Jesus up warmly, and then found Him a safe place to sleep in a manger. With the help of God, Jesus' new parents got on with the job, trusting God to mend whatever mistakes they made.
That's what we have to do too, isn't it? Perhaps you are facing some challenge right now that makes you, too, look around, wondering where the grownups are who ought to be dealing with your situation. You know your own weaknesses all too well. But to you Jesus says the same thing He said to Paul: "My grace is sufficient for you, for My power is made perfect in weakness." And with Paul we can answer, "Therefore I will boast all the more gladly of my weaknesses, so that the power of Christ may rest upon me" (2 Corinthians 12:9). Our Savior Jesus died and rose for us. He will not leave us alone in any of our challenges.
THE PRAYER
Father, when I don't know what to do, give me Your Holy Spirit to guide me and direct me. Amen.
REFLECTION QUESTIONS
How do you feel about caring for newborn babies? Pets? Sick people? Is this comfortable for you, or not?
Have you ever felt like a "real adult" ought to be handling your responsibilities instead of you? If you're willing, tell the story.
When has God helped you face a challenging situation?
Brought to you in partnership with Lutheran Hour Ministries – lhm.org/advent
Learn More
About These Devos
THE COMING KING Advent Devotions 2018
The coming Savior's birth was foretold by the prophets of old and later experienced by many who were on hand as He came into this world. Mary and Joseph, Zechariah and Elizabeth, Simeon, shepherds, wise men from the east, a legion of angels, and even King Herod—all play their parts in the Gospel narratives that speak of the Savior's incarnation. Explore the many ways their lives were touched as God became one of us, for each of us, in The Coming King.
Lutheran Hour Ministries (LHM) is a Christian outreach ministry supporting churches worldwide in its mission of Bringing Christ to the Nations—and the Nations to the Church.