Rope
Daily Devotion for Lent | Thursday, March 15, 2018
Read Mark 15:1-5.
And as soon as it was morning, the chief priests held a consultation with the elders and scribes and the whole council. And they bound Jesus and led Him away and delivered Him over to Pilate. (Mark 15:1)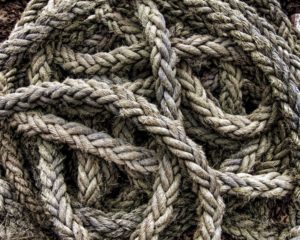 Do you have a coil of rope in your house? What about your car? Rope is a handy thing to have when you're tying down a Christmas tree to be carried home on the car roof, or wood and drywall for a remodeling project. It even comes in handy when you have a new puppy, but you still need to buy a leash for his collar.
We bind all these things with rope and think nothing of it. But rope takes on a different meaning when we think of Jesus. Think about it—when they bound Him in the garden of Gethsemane, that was it until they nailed Him to the cross. His last real freedom of movement was the quick step and reach He made to heal His enemy who had lost an ear to Peter's sword. From that point on, He went wherever His enemies wanted Him to go: to the high priest's house, to Pilate, to Herod, to scourging, mocking—and crucifixion. He would not be free again until the resurrection.
Our Lord Jesus—treated like a wayward puppy, a stubborn donkey—a dangerous criminal. This is so wrong I don't have words to describe it.
And yet He accepted this to set us free. We were the wayward ones, the stubborn ones who insisted on running into danger. As Isaiah says, "All we like sheep have gone astray; we have turned—every one—to his own way; and the Lord has laid on Him the iniquity of us all" (Isaiah 53:6).
He was bound so we might be free; He was hurt so we might be whole; He was killed so that we might live. This is love. This is Jesus, our Savior. And today He lives and calls us to Him to be His own in faith, and in the joyful freedom of the children of God.
THE PRAYER: Lord, You have set me free at the cost of Your own life. Yet bind my heart to You in love, that I may be Your own forever. Amen.
Brought to you in partnership with Lutheran Hour Ministries – lhm.org/lent
Learn More
About These Devos
SILENT WITNESSES Lenten Devotions 2018
For Christians, the season of Lent is marked by deep reflection on the appearance of the Savior and, naturally, what His life, suffering, death, and resurrection mean for our lives now. God's human involvement in our world is a perfect example of His intimate love for us. He spared nothing to make Himself known to us—a fact that proclaims in no uncertain terms how "God so loved the world." In Silent Witnesses, readers will note both the majestic—and mundane—aspects of the Gospel accounts: stories telling how God in His infinite power came down and "has spoken to us by His Son."
Lutheran Hour Ministries (LHM) is a Christian outreach ministry supporting churches worldwide in its mission of Bringing Christ to the Nations—and the Nations to the Church.