An Open Door
Daily Devotion for Lent | Tuesday, March 13, 2018
Read John 18:15-18.
But Peter stood outside at the door. So the other disciple, who was known to the high priest, went out and spoke to the servant girl who kept watch at the door, and brought Peter in. (John 18:16)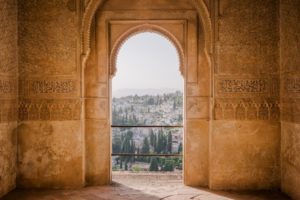 The door of the high priest's house was busy that night. Once Jesus was arrested, the household swung into action. Messengers went out to gather the Jewish council for an emergency meeting; soon those elite gentlemen would pass through that door to gather in a hall off the courtyard. Jesus Himself came through that door, a prisoner under heavy guard. His disciple John was recognized and came in quietly—perhaps because of some family business relationship with the high priest's household.
But Peter could not get in. He came late and unknown, a nobody. The door only opened when John had a quiet word with the doorkeeper—doing a favor for a friend who loved Jesus.
Still, maybe Peter would have been better off if the door had stayed shut. It was the servant girl at the door who first said to him, "You aren't one of this man's disciples too, are you?"
"No, no," Peter said, and scuttled off into the central courtyard. But the accusation followed him. "Aren't you one of them?…You must be one of them…. Of course, you are. We can all tell you're a Galilean."
There was no escape. He was on the wrong side of the door. Trapped among Jesus' enemies, Peter did the only thing he could think of—he denied Christ, loudly and repeatedly, calling down curses on himself in the hopes they would believe his lie.
And then the door didn't matter anymore. Peter had trapped himself by his lies, cursed himself with his own words, cut himself off from the fellowship of Christ. There was no escape from that. Except…
Just then, Jesus turned and looked at Peter (see Luke 22:61). What was in that look? Sadness, no doubt, and disappointment, too. But certainly, above all, there was love. Jesus knew Peter and all that he had done, and He still loved him. At that very moment, He was in the process of saving him—and all of us.
Jesus' saving love opened the door to freedom and life for Peter. It does the same for us today.
THE PRAYER: Lord, You set me free from the sin and death that had me trapped. Teach me to live in Your freedom, loving my neighbors, and being joyful in You. Amen.
Brought to you in partnership with Lutheran Hour Ministries – lhm.org/lent
Learn More
About These Devos
SILENT WITNESSES Lenten Devotions 2018
For Christians, the season of Lent is marked by deep reflection on the appearance of the Savior and, naturally, what His life, suffering, death, and resurrection mean for our lives now. God's human involvement in our world is a perfect example of His intimate love for us. He spared nothing to make Himself known to us—a fact that proclaims in no uncertain terms how "God so loved the world." In Silent Witnesses, readers will note both the majestic—and mundane—aspects of the Gospel accounts: stories telling how God in His infinite power came down and "has spoken to us by His Son."
Lutheran Hour Ministries (LHM) is a Christian outreach ministry supporting churches worldwide in its mission of Bringing Christ to the Nations—and the Nations to the Church.