Immanuel-Joplin at the National Youth Gathering
Houston, Texas | July 8-14, 2022 | "In All Things"

Held every 3 years since 1980, the LCMS Youth Gathering provides thousands of youth and adults the opportunity to come together as a community of God'€s people to learn more about Jesus Christ, the Christian faith and their Lutheran identity. During the five days of the Gathering, youth spend time together in God's word, worship, service, and fellowship with others from across the synod. This event is organized by LCMS Youth Ministry in Saint Louis, MO.
Immanuel-Joplin Youth has attended each and every LCMS Youth Gathering. Right now Immanuel's newest generation of youth are preparing themselves spiritually, socially, and financially for the 2022 LCMS Gathering! Eligible students for the 2022 trip include those scheduled to graduate high school in 2022-2025.
Immanuel's LCMS Gathering Group
Our LCMS Gathering group for Houston 2022 is coming together! Immanuel Lutheran Youth plans to send (10) ten youth and (4) four adults to "In All Things" next Summer. Here's our crew…
Xavier A.
Eli C.
Rebecca D.
Hannah G.
Samuel G.
Kaydence K.
Kailee M.
Will M.
Katie M.
Trace T.
DCE Jason Glaskey
Mrs. Lyla Glaskey
Ms. Jennifer Lutz
Mr. Chas Ziulkowski
In addition to the money we've already saved and each family's contribution, our group is hoping to raise about $4000 to fully fund our Gathering trip. We're also hoping to travel with a few other LCMS Lutheran youth groups— so our overall group could quickly become significantly larger!
---
Important Dates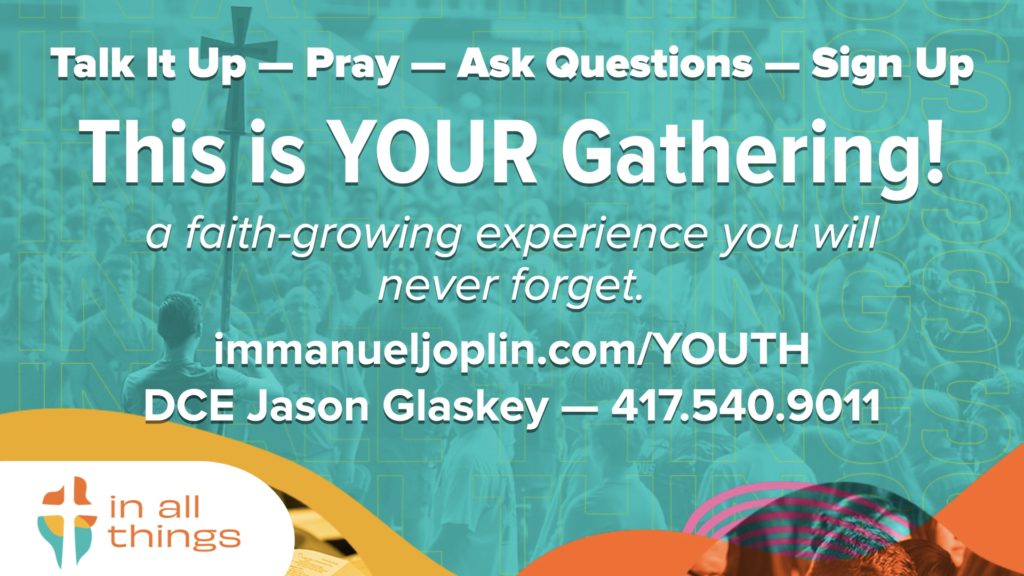 8pm | Wednesday, September 1 — Parent/Youth Gathering Info and More Meeting — for a half hour in the Youth Center, following the evening Youth Night activities.
Sunday, September 12 — Immanuel Family Commitment Day — Paperwork due (see below) including Covenant Forms and Financial Plan; special prayer in the worship services.
September 30 — First Non-Refundable Payment Due — Our Financial Plan is FLEXIBLE. Talk to DCE Jason Glaskey if you might need financial help to afford the trip — funds are available!
November 1 — Official Registration Packets mailed in!
November 1 through 30 — Chiefs NFL Ticket Raffle Fundraiser — LEARN MORE. BUY TICKETS HERE.
---
LOOKING BACK AT 2019
LOOKING AHEAD TO 2022
Learn More