Trunk Or Treat Parking Lot Party
Saturday Evening, October 27, 2018 | 4:30 to 7:00 pm
Trunk Or Treat at Immanuel Lutheran Church in Joplin has become a neighborhood tradition that you won't want to miss! More than 1,000 children and their families come to our church and school parking lot at 26th and Connecticut for free candy and games, costume contests and inflatables, plus great music and a free supper inside.
Check out these pics taken at Trunk Or Treat 2018!
At Trunk-Or-Treat, church members and school families decorate the trunks of their cars to create a festive mood. Children "trick-or-treat" at each trunk and receive a safe, sweet treat and have a great time in a family-friendly environment. Visitors are invited to vote for their favorite trunk of the night. By the way, the evening is totally free.
This year our guests will enjoy the addition of several new carnival-style games. Bouncing around on the new, large inflatables is sure to be a big hit too! Kids will have the opportunity every 30 minutes throughout the evening to show off their costumes and possibly win a gift card prize.
Just inside Immanuel's Martin Luther School building, the gym will be set up with more fun games, plus tables and chairs. A free dinner will be served, featuring hot dogs and chili dogs, Fritos and chili, plus a variety of soft drinks. Our clean rest rooms will be open to the public as well.
Immanuel Lutheran Church is "Growing To Serve" because of the love that Jesus has shown to us. We want to share His love by serving our community in a variety of ways, including Trunk-Or-Treat.
Jesus spoke to them, saying, "I am the light of the world. Whoever follows me will not walk in darkness, but will have the light of life." -John 8:12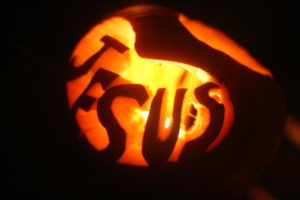 If you are moved to do so, Immanuel is accepting cash donations to help offset expenses, as well as bags of pre-packaged Halloween candy between now and the night of the event. If you'd like to volunteer or donate, please call the church office during business hours (417-624-0333), or contact this year's Trunk-Or-Treat coordinator, Mrs. Beth Haubein (417-540-3186‬).
We hope to see you and your family at Trunk-Or-Treat on October 27! (In the event of rainy weather, we'll move everything inside and still have a great time.)
Learn more