Immanuel-Joplin at the LCMS Gathering
Minneapolis, Minnesota | July 9-16, 2019 | Real. Present. God.
Held every 3 years since 1980, the LCMS Youth Gathering provides thousands of youth and adults the opportunity to come together as a community of God'€s people to learn more about Jesus Christ, the Christian faith and their Lutheran identity. During the five days of the Gathering, youth spend time together in God's word, worship, service, and fellowship with others from across the synod. This event is organized by LCMS Youth Ministry in Saint Louis, MO.
Immanuel-Joplin Youth has been to each and every LCMS Gathering. Right now Immanuel's newest generation of youth are spending the year preparing themselves spiritually, socially, and financially.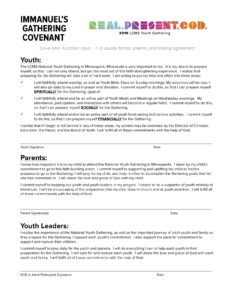 2019 Gathering forms
Download, fill-out and return with your first payment of $125 no later than September 15, 2018. Family finances tight? Talk to Jason Glaskey about how we can make the money work.
Learn More