Come to the sENIOR HIGH Retreat
Cross Pointe Retreat Center – Rocky Mount, Lake of the Ozarks | November 16-18, 2018 | Sign Up Now Through November 4
Registration Is Now Closed. Attending from Immanuel-Joplin are:
Girls – Taylor M. and Caleese L.
Boys – Sam G. and Quincy G.
Chaperones – Jason Glaskey, Jennifer Lutz, Chas Ziulkowski
I AM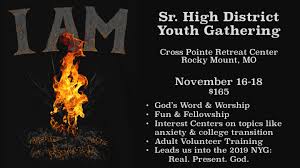 This year our District Youth Gathering Theme will simply be "I AM." In Exodus 3 Moses encounters God at the burning bush.  It is here that God gives Moses his personal name, Yahweh, and the authority of "I AM" to go to the people of Israel.  His message: "I AM" has seen your affliction and I will bring you up out of it!
Today young Christians experience many different kinds of afflictions – personal, emotional, spiritual, mental, and physical – and God is the one who delivers us from these afflictions.
Join us as we gather together to worship, experience the Living Word of God — November 16-18, 2018 at Cross Pointe Retreat Center in Rocky Mount, MO.  Several of our interest centers at the high school retreat will focus on common afflictions that we face as Christians, such as depression and suicide.  We will also have interest centers focusing on sharing the Word of God with others. Specific Interest Center presenters and other information will be available soon.
Accommodations
Cross Pointe Retreat Center features hotel-style lodging (most rooms feature 2 Queen beds to house up to 4 youth per room). During the high school retreat we will make use of the large worship center for our general sessions, break-out rooms in several of the retreat center's buildings, and large indoor recreation center.
Those attending the High School Retreat from Immanuel-Joplin will only pay $100 of the $165 registration cost. Our youth ministry will cover the rest.
The Homesteaders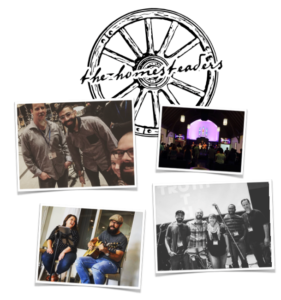 The Missouri District High School Retreat is excited to welcome back The Homesteaders, led by Jason Phelps. He will be joined by bandmates Adrian, Arthur, and Stace.  Jason and his wife Ashley have both helped plant an LCMS congregation in the Fall of 2013 called Oikos (Greek, meaning "the extended family") whose campus resides a couple miles north of downtown Houston, TX. Jason is the full-time worship leader at Oikos who gets to lead worship every Sunday with Ashley.
Jason has played a number of youth gatherings over the years including the Rocky Mountain DYG & the LCMS NYG ('07).  Most recently, they performed 12 mini-concerts for the 2017 NFL Super Bowl in Houston (they were 1 of 75 acts selected out of 450 who auditioned).
The style of music ranges from Folk/Americana to Rock. They love to lead worship, both intimate and high energy. Rend Collective and Bethel tend to be their favorite worship bands to cover in addition to their originals.
High School Retreat Schedule
Friday, November 16
4:00p Meet, Load Up Church Van, Depart for Camp

5:00-8:00 Registration/Fireside Room Hangout/Rec Center open

8:30 Welcome/Community Building/Leadership Meetings

9:00 Session 1, The Homesteaders

10:30 Group Devotions

11:59 Curfew – in hotel rooms
Saturday, November 17 
8:00a Breakfast

9:00 Morning Devotions & Announcements

10:00 Breakout Session 1

12:00p Lunch

1:00 Breakout Session 2

2:30 Breakout Session 3

3:30 Free Time (Rec Center, Fireside Hangout open)

5:30 Dinner

7:00 Session 2, The Homesteaders!

9:00 Saturday Night Fun Options (Rec Center, Escape Room, Games, Campfire S'mores)

11:30 Group Devotions

11:59 Lights Out
Sunday, November 18 
8:00a Breakfast

9:00 Check Out & Clean Up

9:30 Closing Worship

11:30 Go in Peace & Serve the Lord!

~3:00 Arrive Back at Church (will call from the road with updated ETA)
Fall High School Retreat Form