Lent Begins on February 26
Ash Wednesday Services – 4:00 and 7:00 pm | Fellowship Meal – 5:00 to 6:45 pm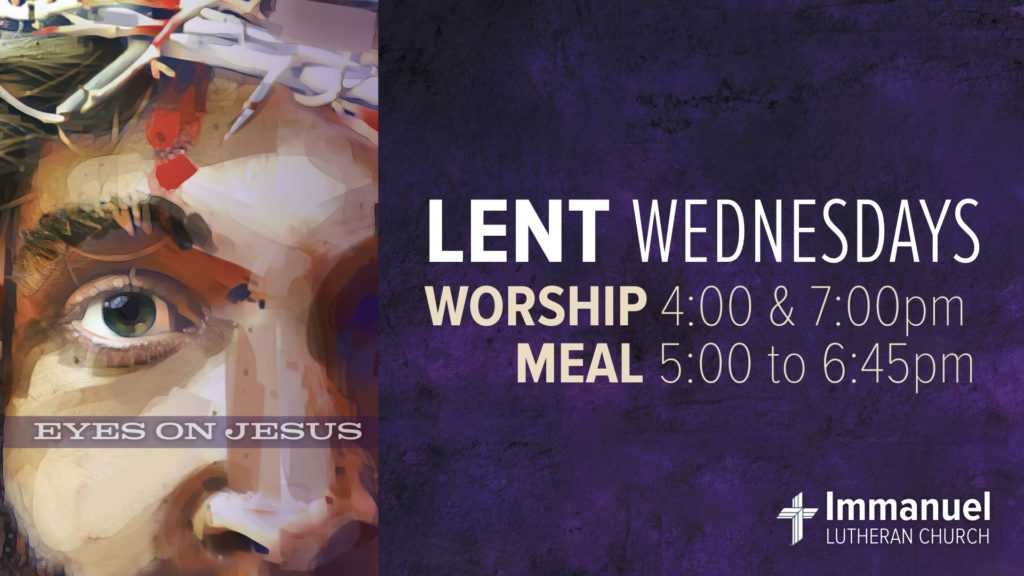 Join us at Immanuel Lutheran Church in Joplin, Missouri on Wednesday, February 26, 2020 for the start of Lent. The Ash Wednesday Service marks the beginning of our 40-day journey with Jesus to the cross. The season of Lent serves not only as a time to meditate on the suffering that Christ endured on our behalf, but also as an opportunity to reflect upon our own Baptism and what it means to live as a child of God.
Worship Service at 4:00 or 7:00 pm
Family-Friendly Meal served between services, from 5:00 to 6:45 pm.
Join us for six weeks on Wednesday evenings. Enjoy a thoughtful, grace-filled worship service paired with a family-friendly meal being served in the Fellowship Hall. Come as you are — straight from work or school. Relax, pray, and share with friends and family. Come, feed your body and soul at Immanuel during Lent.
Eyes on Jesus: Misjudging Eyes
As We Gather on Ash Wednesday… This Lent, we will use the metaphor of eyesight to examine how the various people in Mark's Gospel viewed Jesus during His Passion. In most cases, they misunderstood who He was and what He was doing; then again, sometimes by faith people did recognize Him correctly.
We have these forty days of Lent in which we may look within ourselves as people of faith in our day. How are we like or unlike the people who saw Jesus in the flesh? Most important, as we gather for worship, we will see what Jesus has done to save us from our sins by His holy, precious blood and innocent sufferings and death.
Today, Ash Wednesday, we consider the disciples. They failed to see that Jesus had to leave them so He could die and rise for them and for us. And they misjudged the selfless, loving act of the woman who anointed Jesus with expensive ointment. He saw it as a beautiful, selfless act of devotion that prepared Him for burial. We need to examine ourselves, lest we seek public approval or divine reward for our good deeds. Only what our Lord has done for us makes us pleasing to the Father.

Learn More